Humza Yousaf's new Scottish independence strategy branded 'deeply confused' by expert
Professor James Mitchell said the First Minister's message was 'steeped in ambiguity and incoherence'
Humza Yousaf's new independence strategy has been branded "deeply confused" by a prominent expert on the SNP.
James Mitchell, professor of public policy at Edinburgh University, said the First Minister's message was "steeped in ambiguity and incoherence".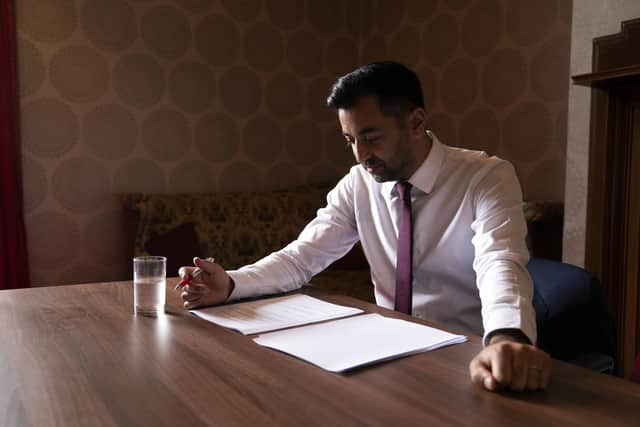 He said the SNP had "not only lost momentum but is fast losing its reputation for governing competence", while its ongoing internal problems "are hardly a great advert for a party trying to convince the public it believes in accountable and responsible government".
The academic added: "Putting all that to one side, the SNP leader's message was still deeply confused. The SNP 'will absolutely fight the next election with independence front and centre of our campaign'. The first line in its manifesto next year will declare: 'Vote SNP for Scotland to become an independent Scotland'. This seems, at first sight, a rehash of Sturgeon's de facto referendum. But he then went on to say that 'If we win the general election, we will take that mandate from the people and ensure we as a government are ready to negotiate our independence' in comments steeped in ambiguity and incoherence."
Prof Mitchell said the SNP "still lacks coherent, consistent and convincing answers on currency, the economy, borders and, crucially, how it will deliver the healthy, wealthy Scotland that all want". He said the party faces three challenges: getting its own house in order; regaining a reputation for governing competence; and offering clear, consistent and convincing answers on key issues around the process and transition to independence.
He told the BBC's Sunday Show that the election would be "tough", but he was "confident" the SNP can win. He said: "I'm not saying to you if we win that general election Scotland suddenly becomes independent. What I'm saying to you is that through a democratic, lawful means, we begin negotiation with the UK Government on how to give that proposition democratic effect."
Recent polling by PanelBase suggested the SNP will take 21 of the 59 Scottish seats at the next election, down from their current 45, while Scottish Labour were on course to win 26 seats, meaning the SNP could fall short of the majority sought by Mr Yousaf.
Even if the party does win the most seats in Scotland, it is not clear why Mr Yousaf's strategy would persuade the UK Government to play ball when multiple election victories have been ignored in the past. Any sign of falling support would also make it easier for Westminster to ignore a request for a second referendum.
There is evidence Mr Yousaf's ambiguous messaging has also led to confusion in his own party. Pete Wishart, the SNP's longest-serving MP, told the convention: "If we as a party secure 50 per cent-plus of the popular vote that will be a clear indication that Scotland has voted for independence and that is what we will deliver to Westminster." This is not the strategy set out by the First Minister.
During his interview on the Sunday Show, Mr Yousaf appeared to admit that only growing support would shift the dial on independence.
Asked how he thought Westminster would respond to his referendum call, he said: "I'm under no illusion that Westminister will continue and does continue to deny us, and that's why of course the core of my speech to the activists was what we must never stop doing, what we are working on doing day-in and day-out, and week-in and week-out, is growing the popular support for independence. It is the power of the people that will break Westminster's intransigence."
However, he said a general election win "doesn't just give us a mandate to seek negotiations with the UK Government", adding: "It actually gives us a mandate to get on ourselves as a Scottish Government to lay the foundations of a newly independent state, and we'll do that through a number of different ways – for example, a draft legal text on the withdrawal agreement, the drafting of an interim constitution, the creation of a special envoy to Brussels."
He said it will be "absolutely abundantly clear to people – if they're voting for the SNP, they are voting for Scotland to become an independent country, to support that proposition".
Mr Yousaf said the SNP will push for a referendum to be held as soon as possible after the general election.
Scottish Conservative deputy leader Meghan Gallacher said Mr Yousaf is "hellbent on turning the next general election into a polarising vote on breaking up the United Kingdom".
She added: "At a time when people across Scotland are struggling with the cost-of-living crisis and want the SNP-Green government to focus on their real priorities, Humza Yousaf is typically obsessed with holding another divisive referendum as soon as possible."
Scottish Labour deputy leader Jackie Baillie said: "Humza Yousaf has made it clear – if your priority isn't a divisive and disruptive referendum, the SNP doesn't want your vote. This is a single-issue party without a coherent plan on how to deliver on their one policy of independence."
Comments
 0 comments
Want to join the conversation? Please or to comment on this article.