Humza Yousaf accused of 'misleading the public' over Michael Matheson's iPad bill
Scottish Labour leader Anas Sarwar said the First Minister must answer 'serious questions'
Humza Yousaf has been accused of "misleading the public" after defending a senior SNP minister over an £11,000 data roaming bill racked up on his parliamentary iPad.
Scottish Labour leader Anas Sarwar said the First Minister must answer "serious questions" amid accusations of "secrecy and cover up".
It comes after health secretary Michael Matheson admitted the huge cost was incurred after his teenage sons used his Holyrood-issued iPad to watch football while on holiday in Morocco.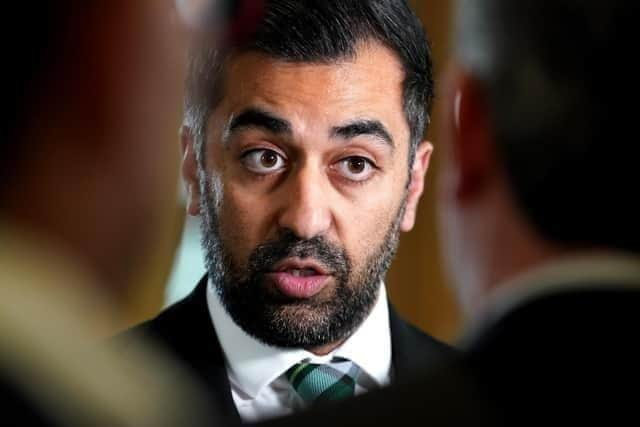 Despite initially insisting the device was used for parliamentary work during the family trip in December and early January, he revealed he had recently discovered his sons' involvement, but did not initially disclose the information to "protect" his children
In an emotional statement to the Scottish Parliament on Thursday, Mr Matheson said he informed the First Minister of the truth on Tuesday. The day before, he told The Scotsman there had been no personal use of the device, despite knowing this was misleading. Opposition politicians have accused him of lying.
On Wednesday, Mr Yousaf said the matter was "now closed" despite the new information.
Speaking to broadcasters during a visit to St Fergus gas terminal, near Peterhead, alongside Sir Keir Starmer and Ed Miliband, Mr Sarwar said the health secretary must now consider his position.
He said: "I've got every sympathy for a dad that struggles with teenage boys – I've got two teenage boys myself. But the issue here is the cover up. Michael Matheson has changed his story.
"He has now admitted that he became aware on Thursday what the true situation was, but continued for three or four days afterwards to tell mistruths about what actually happened and mislead both Parliament and the public. That's not right and it's not appropriate.
"He also says he told the First Minister on Tuesday – why did the First Minister then mislead the public on Wednesday? I think there are serious questions that need answering and I absolutely think Michael Matheson should be considering his position."
Mr Sarwar added: "I think the First Minister has handled this atrociously. He is carrying on this wider culture of secrecy and cover up, thinking they can blag their way through day by day, hoping problems go away.
"That's not the way to run a government and its not the way to run a country. They should come clean, tell the truth and, for once, be held accountable and held responsible for their actions. Lying to the public is not right for anyone to do, particularly not for the health secretary, nor the First Minister."
Scottish Tory leader Douglas Ross has written to the First Minister to demand an apology and explanation. He said Mr Yousaf's "integrity is on the line every bit as much as that of his friend".
He said: "He owes the public an explanation and apology for giving his unequivocal backing to a minister he knew had knowingly lied to the country when he claimed that the iPad had only been used for work purposes. On Wednesday, the First Minister was still parroting the line that this was an honest mistake related to an old Sim card, when he knew the truth."
Mr Ross added: "The fact is the health secretary has lied and covered up throughout this scandal and the First Minister appears to have aided and abetted him. The country can see Michael Matheson's position is untenable. If Humza Yousaf refuses to sack him, he is condoning ministers lying to the public and misleading Parliament."
Mr Matheson is due to chair a public session of NHS Forth Valley's annual review on Monday, in what will be one of the most significant events he has handled on the health portfolio since the scandal first broke.
Earlier this week, the minister cancelled a planned visit to a Glasgow GP surgery, less than 24 hours ahead of delivering his statement at Holyrood.
Constitution secretary Angus Robertson gave his full backing to Mr Matheson, whom he said he had known for decades.
"He's a proper person, I think he's a very competent person, and I know he's been working very hard in relation to the National Health Service and I hope he continues to do so for a long time," he told journalists during a visit to Queen Margaret University near Edinburgh.
Mr Robertson said "any fair-minded person" would appreciate the circumstances outlined by Mr Matheson during his statement in the Scottish Parliament on Thursday. "I want him to continue working as Scotland's health secretary," he said.
Mr Matheson has said he has no intention of resigning over the row. He said he had referred himself to the Scottish Parliamentary Corporate Body, which will consider whether to investigate further.
The bill of £10,935.74 on his parliamentary iPad was incurred during a week-long holiday with his wife, Susan, and two teenage sons between December 27 and January 3 this year. On January 2 alone, costs of more than £8,000 were racked up. Opposition politicians were quick to point out this was the date of an Old Firm football match.
Mr Matheson previously provided a written assurance to the Scottish Parliament the device had been used for parliamentary work. He initially said he would contribute £3,000 towards the bill from his expenses budget while the Scottish Parliament paid the rest.
However, he agreed to reimburse the full cost at the end of last week, after learning of his sons' involvement.
An SNP spokesperson said: "Mr Matheson has reimbursed the Parliament in full for the costs incurred, and set out his position in detail on Thursday, including referring himself to the Scottish Parliament Corporate Body. Opposition parties and MSPs are free to raise all such questions in Parliament, and scrutinise ministers according to Holyrood's processes of accountability."
Comments
 0 comments
Want to join the conversation? Please or to comment on this article.