HMRC underestimated Scotland's Salmon export figures for January by 97 per cent, industry leader claims
HMRC have been accused of recording just 3 per cent of Scotland's Salmon export figures for January.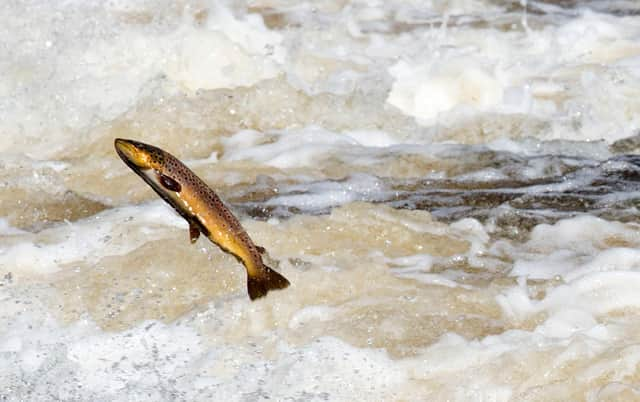 Salmon are believed to have slipped through the net of the figures recorded by HMRC
Hamish Macdonell, the Director of Strategic Engagement for Scottish Salmon producers today claimed the industry had sent 5000 tonnes of salmon in the first month of this year, only for HMRC to record it as 80.
Speaking to the Scottish Affairs committee in Westminster, Mr Macdonnel explained without the real figures, it was impossible to assess the real impact of Brexit.
He said: "There is a real issue over the validity of the export stats put out by HMRC.
"The figures for January were not just wrong, they were very very wrong.
"We sent about 5000 tonnes of salmon to Europe in January.
"The Euro stat system which records how much Scottish salmon went into the EU, records about 4700 tonne going in.
"The HMRC figures say we only sent 80 tonnes, which is only 3 per cent.
"We have been appealing and talking to HMRC for the last couple of months, and we have been unable to get some headway.
"It is very difficult for you as a committee and for anyone else to assess the impact of Brexit when we don't have a proper baseline on the stats.
"There is a big problem in terms of the collation of the figures, or at least there was in January."
Mr Macdonell also suggested Brexit may not have been as bad as expected, but that it was difficult to tell.
He said: "Our own assessments, asking our members for their figures, we believe we sent more salmon to Europe in 2021 than we did in 2020 which changes the perspective a lot.
"We have been appealing and talking to HMRC for the last couple of months, and we have been unable to get some headway."
Responding to the figures, Scottish Tory leader Douglas Ross labelled the revelations "incredible".
He said: "You are effectively saying that somehow HMRC have lost 97 per cent of the salmon that was exported to the European Union."
Demanding answers, he asked the parliamentary Under-Secretary of State for Scotland David Duguid to explain.
He said: "Was there no one within HMRC who thought we had certificates, we have confirmation that 5000 tonnes of salmon was exported from the UK into Europe.
"Yet some systems in HMRC recorded only 80 tonnes, that's not possible, how did that happen?"
Mr Duguid replied: "That is something that is being looked into by HMRC as we speak.
"We first became aware of this when the stats came out.
"I think the latest figures are looking more representative, it's just the January figures, I think they were using a different methodology."
HMRC have been approached for comment.
If you haven't already, please consider supporting our trusted, fact-checked journalism by taking out a digital subscription.
Want to join the conversation? Please or to comment on this article.