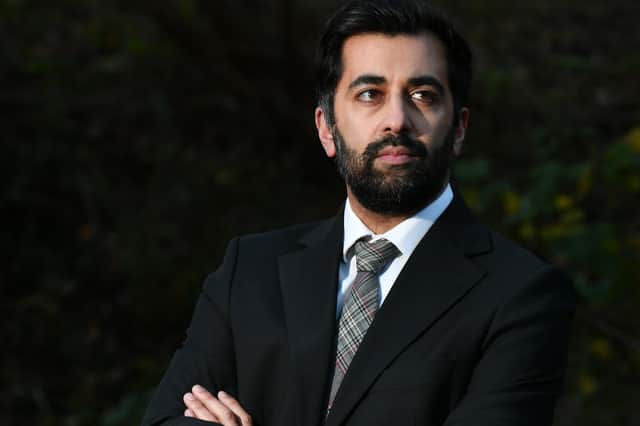 At an emergency 90-minute meeting of Holyrood's justice committee on Monday, Mr Yousaf was pushed to offer reassurances to those who do not believe in gender identity theory and have raised fears they could be criminalised for making statements such as "sex is immutable" and "a women does not have a penis" when discussing legal reforms to the Gender Recognition Act.
Around 600 submissions were received by the committee over the weekend after it asked for views on four options on how freedom of expression provisions should be written in the Hate Crime Bill.
Two would allow "discussion and criticism" of all the characteristics listed, while the other two would also permit expressions of "antipathy, dislike, ridicule and insult" on the grounds of religion only.
The call for submissions came on Friday after Mr Yousaf had withdrawn previous government amendments in the wake of a backlash by young SNP members over how transgender people would be affected by his proposed change.
The change had said "behaviours and materials are not to be taken as threatening or abusive solely on the basis that it involves or includes discussion or criticism of matters relating to transgender identity".
The committee heard from the Faculty of Advocates, the Law Society, Inclusion Scotland, Black and Minority Ethnic Infrastructure in Scotland, Engender, the Evangelical Alliance and the Humanist Society about how detailed freedom of expression provisions should be in the Bill.
A concern was also raised that by being specific as to what could or could not be said, the Bill could give the green light to people to use more hateful language.
However, testimony about how women are being accused of hate by discussing how gender identity impacts on sex-based rights from Lucy Hunter-Blackburn of MBM policy group and Susan Smith of For Women Scotland – who both raised the recent case of an effigy of Spanish vice-president Carmen Calvo being hung from a tree after signing an agreement protecting women's sex-based rights in Spain – appeared to sway Mr Yousaf.
Ms Hunter Blackburn also laid out a list of statements, which she believed would not necessarily be covered by "discussion or criticism", including "saying woman is an adult human female, or there are two sexes, or sex is immutable, or that women have sex-based rights, or that only women can get pregnant or that a women cannot have a penis", all of which she said had been claimed as being "hateful" on social media.
Mr Yousaf was also asked for "reassurance" by SNP MSP Annabelle Ewing.
Ms Ewing said: "I have spoken in the past of the importance of the debate on the immutability of sexual dimorphism and the importance of not conflating sex and gender. I don't see, as a lawyer myself, that my freedom of expression is impacted in that regard in the Bill as it stands, but I do recognise, particularly in the light of evidence we've heard today, there are concerns in that regard.
"So will the Cabinet Secretary, having heard at first hand the concerns raised, if he can provide reassurance that in fact those exercises freedom of expression will not be impacted by the Bill?"
Mr Yousaf said the threshold for "stirring up offences" against protected characteristics in the Bill was "very, very high". He said: "The new offences must be intent only. They include a reasonable person test and the intent must be proven beyond reasonable doubt. The real safeguard is the high threshold that exists.
"There's nothing in the list of statements that Lucy Hunter-Blackburn read out, or the submission from For Women Scotland, that would be criminalised in this Bill. A reasonable person would not find anything she said threatening or abusive, and very clearly there's no intent to stir up hatred.
"We've heard persuasive arguments about more specific detail in relation to some protected characteristics and I'm more inclined to the view that you cannot draw up exhaustive lists of detail.
"For those who would like to see more specific detail on the face of the Bill … if that is not a position the Scottish Government gets to … can I suggest I engage with stakeholders to see if we may give some reassurance in the explanatory notes, which sit alongside the Bill.".
Mr Yousaf added: "I'm quite confident we can get to a position where we can get a freedom of expression clause that gives people the confidence they need around the impact of the Bill on free speech but ensures we don't give a green light to types of behaviours we would not like to see."
Tim Hopkins of the Equality Network agreed the list of examples given by Ms Hunter-Blackburn about trans rights "should not be criminalised".
But he said "it was a long list, too long to put into the Bill".
"That's the problem with lists – it's where do you stop?" he said.
After the meeting the free speech campaign, Free to Disagree, described the "last-ditch attempt to fix freedom of expression provisions" as "deeply concerning" and urged MSPs to delay scrutiny of the proposals.
Group spokesman Jamie Gillies said: "It is deeply concerning that the shape of free speech protections in the Hate Crime Bill – perhaps the most fraught aspect of the proposals – is being decided in haste, days before a final stage three vote that could see the Bill become law.
"From day one, it has been obvious that robust free speech protections need to be written into the Bill to make clear that new stirring up hatred offences do not undermine the right to freedom of expression afforded to all Scottish citizens."
A message from the Editor:Thank you for reading this article. We're more reliant on your support than ever as the shift in consumer habits brought about by Coronavirus impacts our advertisers.
If you haven't already, please consider supporting our trusted, fact-checked journalism by taking out a digital subscription.