FMQs: Pity the poor schoolkids forced to stay and watch Humza Yousaf's first session as First Minister
Pity the poor schoolkids. As the public gallery of the Scottish Parliament was cleared following the fifth interruption to First Minister's Questions from climate protesters, they alone were allowed to stay.
Presiding Officer Alison Johnstone was forced to take the unprecedented measure after anti-fossil fuel activists caused chaos during Humza Yousaf's first outing in the hot seat. Within minutes, proceedings had been paused multiple times as Scottish Conservative leader Douglas Ross was drowned out by shouts.
To be fair, he tempted fate. "I find myself in the bizarre place that I was actually hoping there might be another intervention from the gallery just to stop that long rant from Humza Yousaf that didn't address the question at all, because I specifically asked – here we go," he said, as another protester popped up.
Mobile phones have been banned from the public gallery in a bid to crack down on the interruptions that have plagued FMQs for weeks. Holyrood authorities are now looking at what else they can do amid increasingly shambolic scenes.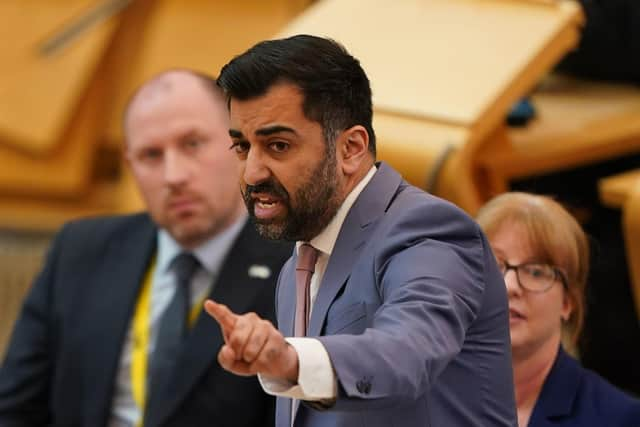 Mr Ross had been grilling the new First Minister on his recent ministerial appointments – and, in particular, the creation of a new "minister for independence". In an obviously pre-prepared spiel, Mr Yousaf hailed his new Cabinet at length, before adding: "Yes, I make no apology whatsoever for having a minister for independence, because my goodness, we need independence now more than ever before."
After the disruption, Mr Ross managed to hit back: "I was just lamenting on the point that clearly Humza Yousaf had a script prepared there – he read it ad nauseam." It was less than ten seconds before more shouts from the gallery brought proceedings to a halt again.
Mr Ross later quoted brutal briefings to newspapers about Mr Yousaf's reshuffle. The new First Minister accused him of desperation, insisting Tory MSPs wouldn't even make it on to his "subs bench".
"I really hope the First Minister gets better than this," Mr Ross grinned. It was all he managed before a fourth interruption from the public gallery. FMQs managed to get going again for all of a few seconds before the fifth and final suspension.
"We will clear the gallery at the moment," Ms Johnstone said. As the public filed out, she added: "Can I suggest that those young people who are in the gallery remain?"
There was applause from MSPs, and praise from Mr Yousaf that they had behaved better than some of the adults. But as FMQs dragged on, the pupils themselves looked less and less thrilled by the reprieve. "It's starting to feel like detention," one journalist quipped.
Scottish Labour leader Anas Sarwar raised important questions about the mental health crisis. He accused the First Minister of "failing" a family whose son has waited years for treatment.
But sparks failed to fly during Mr Yousaf's first outing in charge, albeit it was no disaster either.
The First Minister has a daunting in-tray. He will have to heal the wounds caused by his party's divisive leadership race. He also faces a looming by-election in Rutherglen and Hamilton West, following Margaret Ferrier's suspension from Westminster over her Covid train trip. This will be an early test.
His supporters will hope for more. To borrow a phrase, continuity won't cut it.
Comments
 0 comments
Want to join the conversation? Please or to comment on this article.