FMQs: Nicola Sturgeon says David Davis part of 'old boys' club' with Alex Salmond
The First Minister has accused a Conservative MP of using parliamentary privilege to read out "his old pal Alex Salmond's conspiracy theories".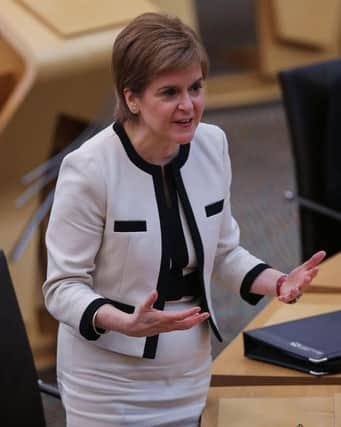 At First Minister's Questions Ms Sturgeon said that the actions of David Davis in Westminster on Tuesday were the "very epitome of the old boys' club".
She hit out at the Conservative MP after coming under pressure from Ruth Davidson about what Mr Davis had alleged during his speech, which included claims the Scottish Government withheld a document from the courts and that an exchange between civil servants showed concerns about "interference" from Ms Sturgeon's chief of staff, Liz Lloyd in the government's investigation of the allegations of sexual harassment against Alex Salmond.
The claim of interference was denied yesterday, when it was revealed that a civil servant had gone to Ms Lloyd seeking advice after being approached by the harassment investigating officer, as she did not want to be involved in the complaints and asked for assurance she would not be obliged to give evidence.
The Scottish Government also released information late last night that the document Mr Davis had spoken of, had been given to the courts during the judicial review in 2018.
Scottish Conservative Holyrood group leader, Ruth Davidson, raised Mr Davis' claims, but Ms Sturgeon said they had been proved "factually inaccurate".
She said: "Having David Davis, a Tory MP, reading out in the Commons under the protection of parliamentary privilege, his old pal Alex Salmond's conspiracy theories about sexual harassment allegations against him, must be the very epitome of the old boys' club.
"Holding this government to account is vital, but anyone who chooses to cheer that on should not pretend to have the interests of the women concerned at heart."
She added: "On the specific question of the withheld document, that claim is factually inaccurate. We tracked down what document was being talked about was it wasn't withheld, it was handed over to the court on 21 November 2018, production number 7.79.
"I would say parliamentary privilege might confer all sorts of protection but unfortunately for Mr Davis it doesn't turns a falsehood into fact."
However Ms Davidson went on to raise new emails which she said could have been released to the Holyrood inquiry investigating the government's handling of the harassment allegations at any time but were "sneaked out in the dog day's of the inquiry."
She said the emails discuss "whether officials really do have to comply with their duty of candour" and she quoted, 'they thought it better, more credible, less shifty-looking if we proceed as proposed… it will probably all end up being out there anyway and better to have transparency than having it dragged out reluctantly and portrayed as a failed attempt at a cover up'.
"First Minister why did the government go ahead with the attempted cover up anyway?"
Ms Sturgeon said the emails, which involved the Permanent Secretary Leslie Evans, showed that the government should amend its pleadings at the judicial review and that it subsequently did.
She added: "All of this is out there for people to see, because people don't have to take Ruth Davidson's word or the word of the old boy's club at the House of Commons, they can go on to the website and read all this for themselves and make up their own minds.
"But David Davis made serious specific allegations and they have completely fallen apart and that's something he should apologise for. He's tweeting this morning no longer trying to defend the specific allegations, he's shifting the goalposts. Shifty is definitely a word I would use today but in relation to David Davis and Ruth Davidson."
She said Ms Davidson was "scraping the bottom of the barrel" and "buying into Alex Salmond's conspiracy theories" and that while the women had been let down, she had apologised and was "determined" to learn the lessons.
Ms Davidson said "the evidence does mount up, as does the government's excuses" and said "the one thing that's not happened is anyone taking the responsibility they should. The circumstances demand that someone loses their job over this, it could be the Permanent Secretary, the First Minister's chief of staff, or the First Minister herself, but really shouldn't it be all of them?"
Ms Sturgeon said she was putting herself "before the verdict of the Scottish people, the ultimate accountability", which she accused Ruth Davidson of running away from. Ms Davidson is not standing for election in May, but is set to take up a seat in the House of Lords.
The First Minister added: "We heard yesterday from a complainer who had asked for the help of my chief of staff say categorically that what was being suggested by David Davis was fundamentally untrue.
"Ruth Davidson claims that for her this is all about the women, so can I suggest, if that's true, she should start listening more to the women, and less to Alex Salmond and his cronies.
"Ruth Davidson and the Conservatives are not interested in the women, not interested in the evidence, they are using this as a political tool because frankly they've got nothing positive to put before the Scottish people."
A message from the Editor:Thank you for reading this article. We're more reliant on your support than ever as the shift in consumer habits brought about by Coronavirus impacts our advertisers.
If you haven't already, please consider supporting our trusted, fact-checked journalism by taking out a digital subscription.
Comments
 0 comments
Want to join the conversation? Please or to comment on this article.