FMQs: Humza Yousaf accused of 'losing grip' on SNP over 'reckless' Scotland fishing ban plans
The First Minister has been warned over rebellions from within the SNP after six of his own party's MSPs broke ranks over fishing plans.
Humza Yousaf has been accused of "losing his grip" on his own party over plans to ban fishing in 10 per cent of Scottish waters that have been labelled "reckless".
The SNP leader was warned about the threat he faces from rebellions from his party's MSPs, as he was attacked at First Minister's Questions over the consultation surrounding highly protected marine areas (HPMAs).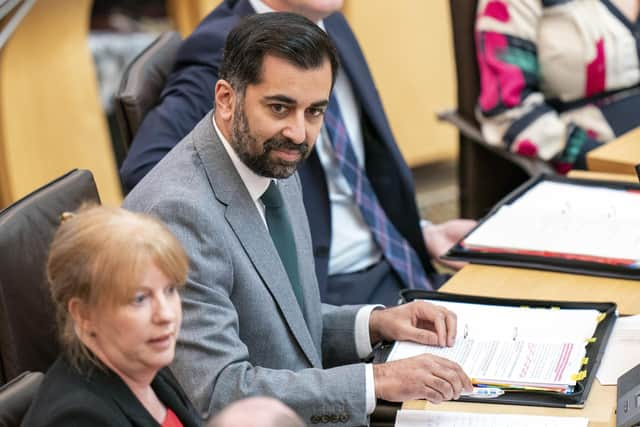 Alasdair Allan, Fergus Ewing and Kate Forbes all voted against an SNP amendment in Holyrood, while Annabelle Ewing, Christine Grahame and Ash Regan abstained.
Scottish Tories leader Douglas Ross challenged Mr Yousaf to scrap the plans – a question the First Minister did not directly answer.
Mr Ross said: "Humza Yousaf was speaking about the response from the Scottish Conservatives. He should be worried about the response from his own backbenches. The rebellion that we've already seen.
"It took [former first minister] Nicola Sturgeon eight years to have her first major rebellion within the SNP ranks. It's taken Humza Yousaf less than eight weeks to achieve the same.
"He's clearly losing his grip on his party because he insists on pursuing these extreme policies that are opposed by the very communities he wants to impose them on.
"These reckless plans would ban fishing across much of our sea, it would put thousands of jobs at risk and it would devastate coastal, rural and fishing areas."
Ministers insist HPMAs will conserve marine ecosystems while providing economic and social benefits, but critics have raised fears over significant job losses. A consultation on the issue closed last month.
Mr Yousaf said: "Let me just remind him [Mr Ross] of course that it also in the Scottish Conservative manifesto to introduce highly protected marine areas. In fact, Douglas Ross didn't just stand on one manifesto, he stood on two manifestos that wanted to introduce highly protected marine areas in some shape or indeed some form."
The First Minister added: "What we have made absolutely clear is that this Government will not impose HPMAs on any community that vehemently opposes them."
However, he later said it would be "wrong" to define what a fishing community is and what consent would be required from those communities as it relates to controversial marine plans.
The SNP leader said: "In terms of what mechanism we will use – how we define community in terms of opposition or, indeed, consent – that will be something that we will engage with the community.
Mr Yousaf also hit back at Mr Ross, saying: "The Conservatives have had the longest attempted coup in Scottish political history, why doesn't Jamie Greene or Liam Kerr stand up and put Douglas Ross out of his misery?"
The First Minister added that Mr Ross had "lost faith in his own political party" and "spent the entire Easter recess urging people to vote for the Scottish Labour Party", alluding to statements from the Tory leader about tactical voting which were subsequently rowed back.
Anas Sarwar, Scottish Labour leader, focused on Mr Yousaf's record as justice secretary and what he labelled "chaos" in the criminal justice system.
He said: "We have a First Minister who talks big but consistently fails to deliver. This is an incompetent and dysfunctional Government which after sixteen years has left every Scottish institution weaker.
"It is no wonder that every day, more and more people are losing trust and faith in this failing SNP Government."
Want to hear more from The Scotsman's politics team? Check out the latest episode of our political podcast, The Steamie.
Comments
 0 comments
Want to join the conversation? Please or to comment on this article.