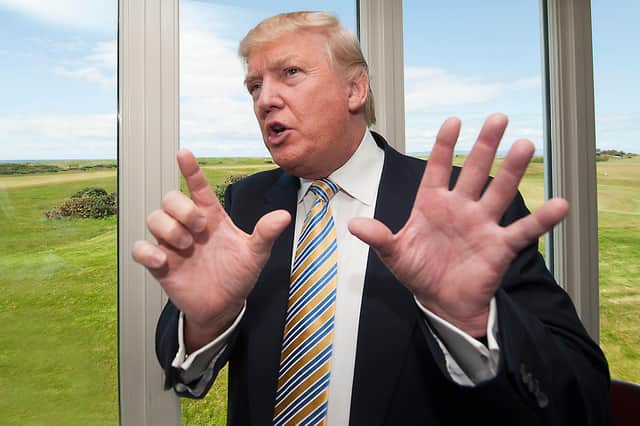 With hours left of Mr Trump's presidency, the Scottish Parliament was told that it was time to "kick his toxic brand" out of the country and act on "serious concerns" about how his holdings here were financed.
Patrick Harvie MSP, co-convener of the Scottish Greens said it was "crystal clear" that First Minister Nicola Sturgeon and her cabinet had the power to investigate Mr Trump, who owns the historic Turnberry resort in South Ayrshire and Trump International Scotland in Aberdeenshire.
It comes after The Scotsman revealed Aidan O'Neill QC, one of the nation's most senior legal figures, said Scottish ministers alone have responsibility for pursuing what is known an Unexplained Wealth Order (UWO), a mechanism designed to target suspected corrupt foreign officials who have potentially laundered stolen money through the UK.
In legal advice prepared for the activism group, Avaaz, the prominent advocate stressed there is no legal basis for the government not to explain its position on whether or not it was looking into or considering seeking an UWO.
However, Ms Sturgeon told Holyrood today she had not read Mr O'Neill's advice in detail, and reiterated her view that any decision around a UWO rested with the Lord Advocate.
Speaking at First Minister's Questions, Mr Harvie said: "From today, Donald Trump will no longer be the US president, and his business activities are under criminal investigation in the US. But his purchases in Scotland have still not been investigated despite serious concerns about how they were funded.
"The Greens have long called for these dodgy deals to be investigated using an UWO. Whenever we raise this, the first minister has told us it's not her decision to make. Has she seen the legal advice from a senior QC, published this week by the campaign group, Avaaz, making it crystal clear that this power lies with her, and her cabinet?"
Mr Harvie called on Ms Sturgeon to "stop hiding behind officials" and ensure that Mr Trump's purchases in Scotland are "given the scrutiny they urgently need" via the use of the so-called 'McMafia' order.
Ms Sturgeon replied: "I'm sure many of us across the chamber and across Scotland will be very happy to say cheerio to Donald Trump today. I think 'Don't haste ye back' might be the perfect rejoinder to him, and in advance of the inauguration, I'm sure we all want to send our congratulations to soon to be President Biden and soon to be vice president Kamala Harris.
"I've seen reports of the legal advice Patrick Harvie refers to, I've not read it in detail - I'm happy to do so and come to him in more detail.
"Of course, the government has its own sources of legal advice, and what I've said before is how investigations and decisions around UWOs are taken - these are matters that lie with the Lord Advocate, but I'm happy to look in more detail at any information that is put to me, and if there are further points I think it is appropriate to make, I will do so."
A message from the editor:Thank you for reading this article. We're more reliant on your support than ever as the shift in consumer habits brought about by coronavirus impacts our advertisers. If you haven't already, please consider supporting our trusted, fact-checked journalism by taking out a digital subscription.