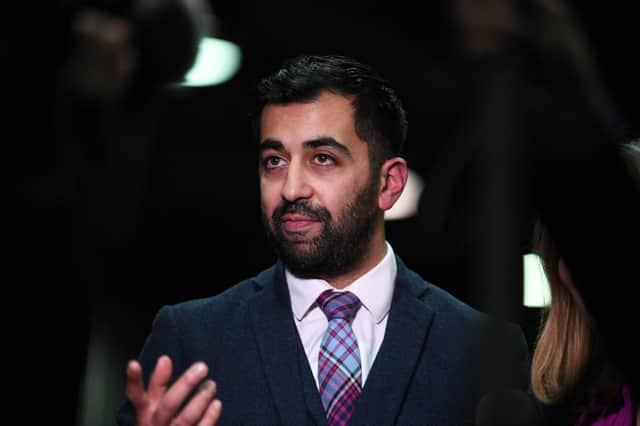 In a last-ditch bid to see the legislation dumped, a number of campaign groups, including the National Secular Society, the Christian Institute, the Network of Sikh Organisations, women's rights group For Women Scot, LGBT and human rights group the Peter Tatchell Foundation and civil liberties group Big Brother Watch, have united to warn MSPs the Bill is "not fit for purpose".
Holyrood will today debate final amendments and then vote on the Hate Crime and Public Order Bill, which outlines broad new offences on the 'stirring up of hatred'.
There have already been numerous changes to the proposed legislation by justice secretary Humza Yousaf, but concerns still remain the Bill will undermine freedom of expression.
National Secular Society chief executive Stephen Evans said: "The passing of the Hate Crime Bill will have a chilling effect on freedom of expression in Scotland. Placing legal restrictions on speech in an attempt to promote social harmony is counter-productive and misguided.
"The repeal of Scotland's official blasphemy law within this legislation is welcome … but this remains a censorious law which will encourage vexatious complaints, create unnecessary bureaucracy and make ordinary Scots less willing to engage in public debate on contentious issues."
Simon Calvert, deputy director of The Christian Institute, said: "Whilst welcome changes have been made to the Bill in response to the huge clamour of opposition it created, people are still rightly concerned about how it will be enforced in practice.
"In the current climate of hostility towards people exercising freedom of speech on certain controversial issues, this Bill risks creating further division by encouraging people to report one another to the police over their opinions."
And Hardeep Singh, spokesman for the Network of Sikh Organisations, said MSPs needed to "put free speech before party politics".
"I'm not convinced using the law to tackle 'hate' is the best way to address prejudice in wider society in the first place," he said.
"I say this as a Sikh and being part of a community that has faced a significant backlash since 9/11. Improving levels of religious literacy and replacing bad ideas with good ideas through open and healthy debate is a critical part of the solution to this problem – and this all requires more free speech, not less."
Susan Smith, of women's rights group For Women Scot, said the Bill was "doubly problematic" for women as it threatened their freedom of speech as well as failed to "implement the recommendation of Lord Bracadale to include sex in the legislation".
Peter Tatchell, director of the Peter Tatchell Foundation, added: "This legislation will be flawed without robust free speech protections and these should cover all protected characteristics equally, without any special regulations for race, sexuality, religion or gender identity.
"Anything less could threaten freedom of expression and create an unjustifiable hierarchy of rights and protections."
Mr Yousaf has written to MSPs seeking to reassure them that freedom of speech would not be restricted and that a working group investigating a stand-alone offence of misogyny would report within a year.
He has said the Bill "strikes the right balance between protecting groups targeted by hate crime and respecting people's rights to free speech".
A message from the Editor:Thank you for reading this article. We're more reliant on your support than ever as the shift in consumer habits brought about by Coronavirus impacts our advertisers.
If you haven't already, please consider supporting our trusted, fact-checked journalism by taking out a digital subscription.