Edinburgh Festival Fringe: Pupils from two Edinburgh schools to take part in Alex Salmond's Fringe show
Students at Craigmount and Boroughmuir will debate against political heavyweights
Pupils from two Edinburgh secondary schools will go head-to-head with former first ministers and political heavyweights at this year's Festival Fringe.
'The Ayes Have It! The Ayes Have It!' will see two teams led by Mr Salmond and Conservative MP David Davis fight it out on a range of issues, including Brexit and Scottish independence, in front of a 450-capacity audience in the Assembly Spiegeltent in George Square from August 4 to 13.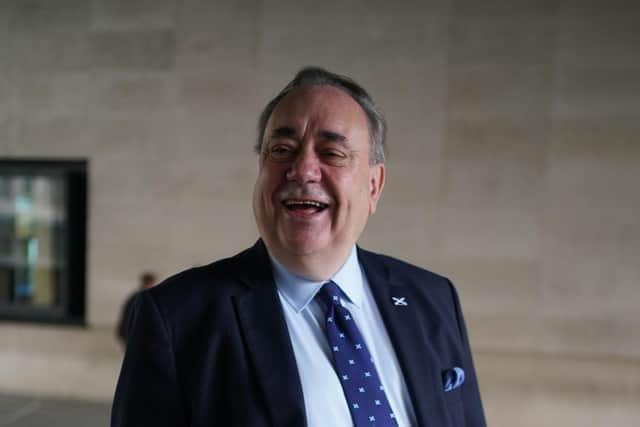 The Boroughmuir pupils taking part are Shona Cuthbert, Alannah Taylor, Sam Brander and Fabian Butchart, while Peter Fairhurst, Rebecca Anderson, Fiona Halliday, Rowan Kelly and Robyn O'Neill will take part from Craigmount.
David Cogan, a modern studies teacher at Boroughmuir, said: "This is the first time the kids have done anything on this scale, so it's really exciting. They're a bit nervous, but really excited."
Andrew McPake, an English teacher and head of debating at Craigmount, said its five pupils were regular debaters and have previously taken part in competitions. He said public speaking was a skill they could use in later life, "and that's very much something we aim for, as a debating society".
Rowan, 16, said: "I really love debating as an activity – to be able to do it against people of such a high calibre is very exciting for me. It's definitely an opportunity I don't take lightly."
Fellow Craigmount pupil Rebecca, 16, said she hoped the topics would play to her strengths.
Former Commons speaker John Bercow will fill the role of chair for the start of the Fringe show's run. He will later be replaced by figures, including former SNP MP Eilidh Whiteford, journalist and former MSP Joan McAlpine, former first minister Henry McLeish and Dame Eleanor Laing, the principal deputy speaker of the Commons.
Tasmina Ahmed-Sheikh, who is the producer and director of the show, said: "I wrote to the executive director of education and children's services at Edinburgh City Council, Amanda Hatton, offering the opportunity for young people from local schools to take part in the big tent debates. I thought pupils would really enjoy the chance to make their arguments on a range of topical issues, alongside seasoned politicians, and under the watchful eye of experienced chairs.
"I was delighted when Ms Hatton said she would love to take this up and particularly so when I heard that one of the schools taking part was my former school, Craigmount High, which I attended from S3 to S4, some time ago. Suffice to say, the politicians better watch out, as if my time at Craigmount is anything to go by, the pupils will be the stars of the show."
Comments
 0 comments
Want to join the conversation? Please or to comment on this article.