Divisions deepen as Kate Forbes turns down role in Humza Yousaf's Government
Divisions in the SNP have deepened after Kate Forbes turned down a job in new First Minister Humza Yousaf's Government.
It is understood Ms Forbes was offered the rural affairs portfolio, which would have been seen as a clear demotion from her previous role as finance secretary under Nicola Sturgeon. She will instead return to the backbenches in Holyrood.
Earlier, Mr Yousaf, the new SNP leader, told journalists he wanted Ms Forbes in his government. He said he had already spoken to her, adding: "I absolutely want Kate Forbes to be part of the government."
The SNP leadership contest saw bitter exchanges between the pair. Ms Forbes trashed Mr Yousaf's record as a government minister, while Mr Yousaf suggested she would drag the party to the right. In the end, he defeated Ms Forbes by just 2,142 votes.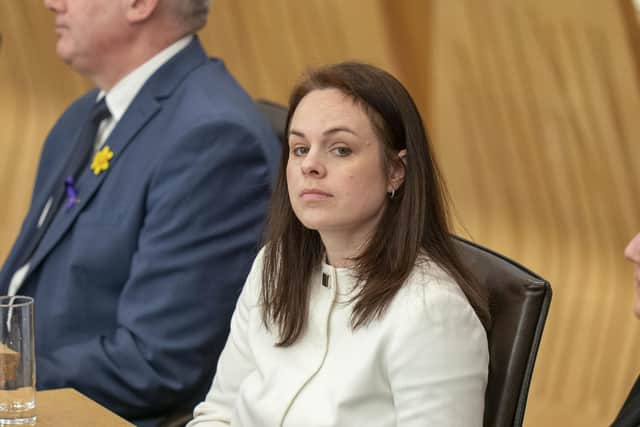 But the former health secretary had spoken of seeking to heal divisions as leader. In his speech after winning the contest, he pledged to "reach across the divide".
One well-connected SNP source described him as an "absolute fool", adding: "When you scrape into Bute House by the smallest of margins you don't humiliate your finance secretary by offering her such a demotion." They described the move as a "serious misstep" and said it had gone down "terribly" among members who had backed Ms Forbes.
Former SNP minister Alex Neil, who had supported Ms Forbes, said it was "an insult and not a real effort to unite", adding: "A poor start."
However, Ms Forbes tweeted: "To the great credit of Humza Yousaf the first official convo he had after Monday's result was with me. He has been respectful, supportive & warm throughout. In whatever capacity I serve, I'll support him. Ps after five long weeks, I'll be delighted to see more of my family!"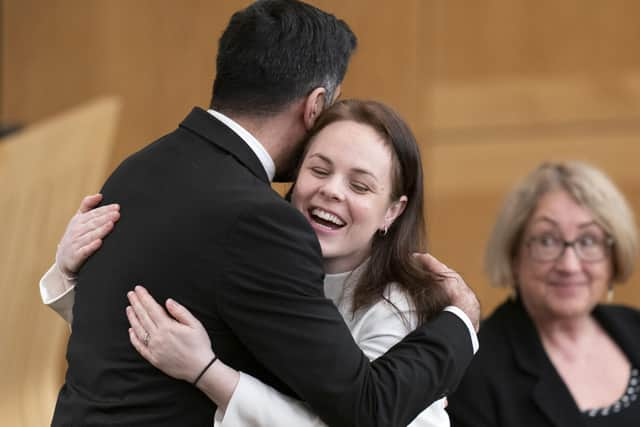 A source in her campaign team said: "Kate is now a mum with a young family, and she would like to be around for them more."
Insiders said Ms Forbes raised her young family during that initial conversation with Mr Yousaf on Monday. The pair then met at 9.30am on Tuesday at St Andrew's House, the Scottish Government's headquarters in Edinburgh, where Ms Forbes was offered the rural affairs job.
At around 5pm, she turned it down. An hour earlier, she was applauded at an SNP group meeting in Holyrood after speaking "eloquently" about the party being one team.
Mr Yousaf said Shona Robison, one of Ms Sturgeon's closest friends, will be his deputy. More appointments to his top team are expected on Wednesday after he is formally sworn in at the Court of Session in Edinburgh. Neil Gray, his campaign manager, is among those expected to be handed a Cabinet role.
Ms Robison served most recently as social justice secretary under Ms Sturgeon. She was a key member of Mr Yousaf's campaign team, garnering praise in his acceptance speech on Monday.
Mr Yousaf said he had not yet spoken to Ash Regan, the third SNP leadership candidate, about a potential role. She was eliminated in the first round of the leadership result with 11 per cent of the vote.
Addressing the Scottish Parliament after he was formally voted in as First Minister, Mr Yousaf opened up about the racism he had suffered as a teenager in Scotland after 9/11. He said: "There was a time not all that long ago when I felt I simply did not belong here in Scotland. To go from there to now leading the government as Scotland's sixth First Minister, I hope sends a strong message to every single person out there who feels that they don't belong."
He said his election as the first ever Muslim to lead a Western democratic nation "speaks to our values as a country". He added: "You try telling that to 16-year-old Humza Yousaf, who post-9/11 was questioned constantly about his loyalty to this country. We have, collectively, come a long way."
Mr Yousaf made an "open offer" to Holyrood's opposition parties to work with them on areas of common ground. He said he would request meetings with his counterparts in the Conservatives, Labour and the Liberal Democrats, and would also work with the UK Government "where I can, when I can, in the best interests of our nation".
He said there was "probably a shared appetite across this chamber for a politics that is slightly less polarised and a bit less confrontational", adding: "Above all else, to the people of Scotland I want to make this pledge: I will never forget that I am First Minister for all of Scotland, regardless of who you voted for, where you live or where you come from."
However, the new First Minister also insisted he would "argue vigorously" for independence. He said he would be raising the issue in his first phone call with Prime Minister Rishi Sunak a few hours later.
He said: "I'll be saying that the Westminster Government shouldn't be denying democracy. It shouldn't be denying the voice of the Scottish people. We have a mandate for a referendum, and I'll be putting that case forcefully to the Prime Minister."
It is understood Mr Sunak made clear the constitution should not distract from delivering on the top priorities for people in Scotland.
Mr Yousaf confirmed there "absolutely will be" a minister for independence in his government. In a swipe at the Conservatives in Westminster, who have blocked Holyrood reforms of the gender recognition process, he also told MSPs the Scottish Government would be less effective "if we allow the UK Government to arbitrarily veto this Parliament's legislation".
Scottish Conservative chairman Craig Hoy said: "On day one as First Minister, Humza Yousaf has poured petrol on the SNP civil war. Kate Forbes' furious snub to his offer of a cabinet demotion shows his mission to reunite their feuding party is doomed to failure.
"It makes a mockery of his claim only yesterday that: 'We are no longer team Humza, or team Ash, or team Kate, we are one team.' The reality is the SNP are divided from top to bottom. And, as they concentrate on knocking lumps out of each other, they are unable to focus on the real priorities of the Scottish people.
"The public are being appallingly let down by this squabbling rabble, and only the Scottish Conservatives will focus on the issues that matter to them – such as the cost-of-living crisis and the state of Scotland's NHS."
Comments
 0 comments
Want to join the conversation? Please or to comment on this article.