Nicola Sturgeon is to take part in a political talk show at this year's Edinburgh Festival Fringe following a tumultuous few months in Scottish politics.
The event will likely attract intense interest given the ongoing police investigation into the SNP's funding and finances. Ms Sturgeon's husband, Peter Murrell, the former chief executive of the SNP, was arrested last month on the same day the couple's home on the outskirts of Glasgow was raided by officers. He was released without charge following around 11 hours of questioning.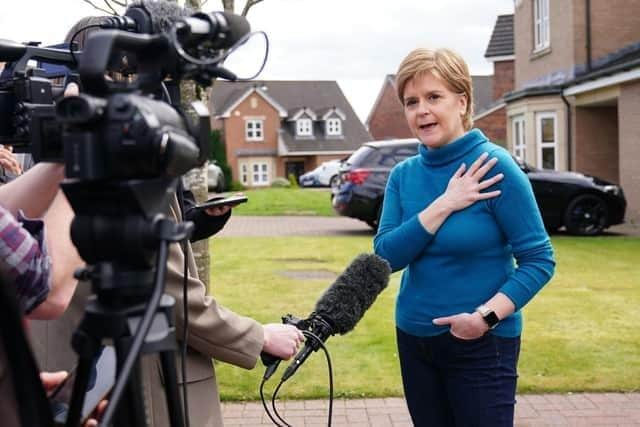 Colin Beattie, the SNP's former treasurer, was also later arrested and released without charge.
Ms Sturgeon previously denied the police investigation was behind her decision to resign in mid February. She told journalists: "There are many questions that I would want to be able to answer and in the fullness of time I hope I will answer, but it would be wrong and inappropriate for me to go into any detail of what the police are currently investigating.
"I understand the view that some people might have, that I knew this was all about to unfold and that's why I walked away. Nothing could be further from the truth. I could not have anticipated in my worst nightmares what would have unfolded over the past few weeks."
She said recent events had been "in some respects very traumatic".
There has been speculation over Ms Sturgeon's political future, with many questioning whether she will stay on as a backbench MSP until the next Holyrood election. Her resignation sparked a bitter leadership contest that saw Humza Yousaf elected as the new party leader and First Minister at the end of March.
As well as the event with Ms Sturgeon, Mr Dale will be interviewing RMT leader Mick Lynch on August 5, and former Labour MP Chris Mullin and author and journalist Sasha Swire on August 6.
The LBC presenter said: "I'm excited to welcome Nicola Sturgeon back to my All Talk series for her third appearance since she made her Fringe debut with us in 2019. Her political journey since then has been fascinating and I can't wait to talk to her about what the future holds for her and the party she led through such tumultuous years.
"It's also hugely topical to have RMT leader Mick Lynch joining me for the first time, as rail strikes look set to continue for some time yet. And for fans of politics, the double act of Chris Mullin and Sasha Swire joining me to talk about their fascinating writing and careers will be quite a treat.
"It's wonderful to be returning to the EICC as part of the Pleasance programme after so many sell-out shows there last year."
The police investigation into the SNP was launched in summer 2021 following complaints about how donations worth around £600,000 for an independence referendum campaign were used.