Who is Peter Murrell? How did he end up as SNP chief executive and why did he resign?
The inner workings of political parties are generally shrouded in shadow from the general public. No-one needs to know who's in charge and pulling the levers behind the scenes when the politicians currying favour and votes like to be in the limelight.
But there are times when the curtain is pulled back and the Wizard of Oz is found to be just a bloke in an M&S suit.
The public might have heard of Peter Murrell previously, given he is married to former first minister Nicola Sturgeon. But few would probably have been able to pick him out of a line-up, despite him being one of the most powerful SNP figures outside of Holyrood and Westminster for decades.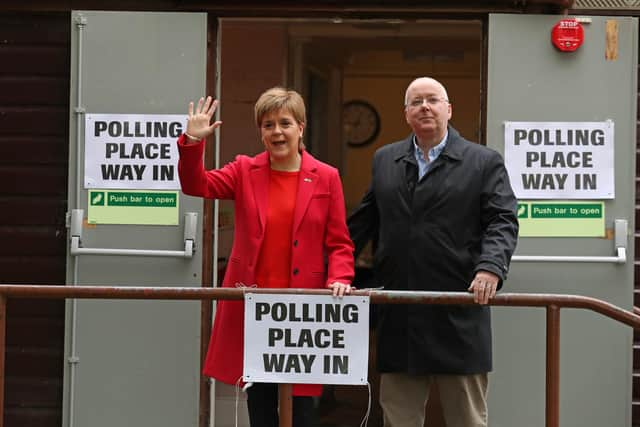 But who is Peter Murrell, who did he rise to prominence and what was his role within the SNP until his resignation?
Who is Peter Murrell?
Mr Murrell came to greater public prominence as a result of the Scottish Parliament's inquiry into the Government's handling of the sexual harassment allegations against former first minister Alex Salmond..
The 56-year-old grew up in one of Edinburgh's more leafy suburbs of Corstorphine, and went to Craigmount High, before studying at Glasgow University in the mid 1980s.
A job as a PR officer with the Church of Scotland was quickly shelved by the life-long SNP member when he was invited to run Mr Salmond's Banff and Buchan constituency office. There he helped to organise SNP youth weekends, meeting an 18-year-old Nicola Sturgeon for the first time at one such event in 1988.
He moved to an administrative role at the party's Edinburgh headquarters and when Mike Russell resigned as SNP chief executive in 1999, Mr Salmond made sure his former trusted organiser was catapulted into the top job.
Mr Murrell made his mark as a "calming influence" when inter-party strife marked the troubled reign of now-Deputy First Minister John Swinney as leader of the SNP from 2000-04, though others say his "behind-the-scenes meddling" saw him earn the nickname "Penfold" – a reference to Danger Mouse's sidekick in the cartoon series.
He and Ms Sturgeon became a couple in 2003, and so were together when she pulled out of a leadership bid in 2004, and threw in her lot with Mr Salmond, who wanted to return as leader. In so doing, he defeated her friend Roseanna Cunningham and Ms Sturgeon became deputy leader. The pair married in 2010.
Mr Murrell was also an important figure in setting up key internal changes that transformed the SNP from an opposition party to one which has governed Scotland for nearly 14 years, and was central to the now-infamous Craigellachie Hotel summit in 2005, at which senior SNP figures resolved to ensure the SNP won the 2007 Scottish election.
However, since the fallout of the Salmond judicial review and criminal trial, he had come came under pressure to resign, with questions raised by SNP members about whether having a husband and wife team running the party was healthy.
When did Peter Murrell resign?
Mr Murrell quit as the SNP chief executive with immediate effect last month. Members of the SNP's National Executive Committee (NEC) had spoken to Mr Murrell and called for him to step down amid threats of a vote of no confidence.
The decision came after Mr Murrell was accused of undermining the current leadership contest, with the SNP's former head of communications Murray Foote resigning from his post a day earlier after denying reports the party had lost 30,000 members, branding them "inaccurate" and "drivel".
Following concerns expressed by SNP candidates over voting in the leadership contest, the party released membership figures, confirming there were 72,186 paid-up members voting in the leadership contest, confirming it had indeed lost 30,000 members, weeks after the denial.
Mr Foote resigned from his position on March 17, saying that after speaking to the party's HQ he had issued responses to the media which had "serious issues" and he later decided there was a "serious impediment" to his role. Mr Murrell resigned the following day.
Ms Sturgeon officially stepped down as SNP leader and first minister on March 28, after sending an official resignation letter to King Charles III.
A message from the Editor:Thank you for reading this article. We're more reliant on your support than ever as the shift in consumer habits brought about by Coronavirus impacts our advertisers.
If you haven't already, please consider supporting our trusted, fact-checked journalism by taking out a digital subscription.