Drew Henry, MP for Inverness, Nairn, Badenoch and Strathspey, proclaimed "this is an outrage" as a debate on the UK Internal Market Bill reached its conclusion, before proceeding to pick up the parliamentary mace.
The SNP's business spokesperson was reprimanded by Deputy Speaker Dame Rosie Winterton, while other MPs could be heard describing his behaviour as "outrageous" and referring to it as "another boring stunt".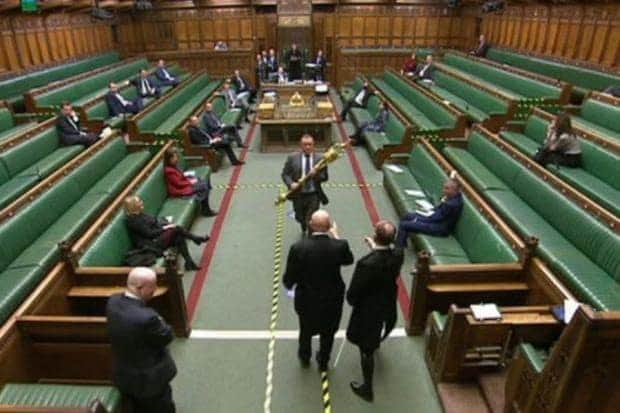 This isn't the first time the mace has been used as a form of protest.
Labour MP Lloyd Russell-Moyle was thrown out the House of Commons in 2018 after he held the mace aloft and marched towards the Commons doors, where he was stopped by officials.
Why is the mace important?
The mace is the symbol of royal authority and without it neither House can meet or pass laws.
Dating from the reign of Charles II the mace is a silver gilt club of about five feet in length.
Everyday the House sits the mace is carried into the chamber in front of the Speaker's procession.
The mace is placed on the table of the House, unless the House is in committee in which case it is placed underneath the table.
Why was Drew Hendry protesting?
The UK Market Internal Bill sets out how trade within the UK will operate post-Brexit, but critics feared the legislation in its original form represented a power grab by Westminster at the expense of Scotland, Wales and Northern Ireland.
Following a number of defeats by the House of Lords and extensive debate and negotiations, the Government had a rethink and made changes that will allow the devolved administrations agreed divergence from internal market rules through so-called common frameworks.
During the earlier debate, as MPs discussed the concessions before signing off the Bill, Mr Hendry warned: "The only reason for this Bill as it now stands is to demolish devolution.
"If the Government takes this Bill forward today, as they obviously will, that is what they will be doing."
Drew Hendry, 56, has represented the Westminster constituency of Inverness, Nairn, Badenoch and Strathspey since 2015.
Hendry has represented SNP since 2007, when he was elected in the local elections for Aird and Loch Ness Ward.
Four years later he would be appointed leader of the SNP Highland Council group.
Hendry currently chairs and all-party parliamentary group for the terminally ill.