Deposit return scheme Scotland: Lorna Slater confirms Nicola Sturgeon letter to Rishi Sunak and says she has 'confidence' DRS will launch in August
Scotland's deposit return scheme (DRS) is a major part of our efforts to reduce littering, cut emissions and address the climate emergency
On track to launch in August, our DRS will reduce littering by a third and CO2 emissions by four million tonnes over 25 years. That's equivalent to taking 83,000 cars off the road – and it is just the latest in a series of successful examples from around the world.
Countries such as Germany and Denmark, and the regional schemes in Canadian states, have already shown what a huge and positive impact deposit return can have, dramatically reducing litter and cutting climate emissions.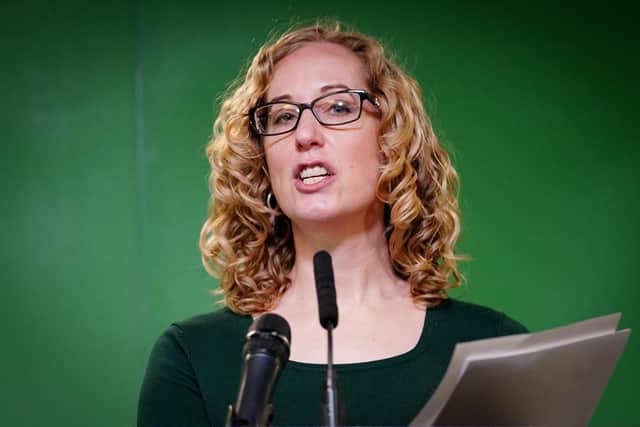 Circularity Scotland, the organisation responsible for administering Scotland's DRS, has been working closely with businesses of all sizes to prepare for launch in August. They are now at an advanced stage of building the necessary infrastructure and logistics network that will support the scheme.
Sites have been secured across the country to handle and process material. Counting equipment and vehicle fleets are arriving. Recruitment is underway to create 500 new jobs in Scotland in processing and logistics. An estimated £300m has now been invested by the private sector in this scheme.
Even so, DRS is a big change for small businesses to manage and that is why Circularity Scotland has announced a £22m package of support that will remove the day one and month one charges for all producers, up to a threshold of three million units per year.
I know producers still have concerns and that is why we are exploring all fair, feasible and legal options available to support them, including a potential grace period.
The implications of a step like this, how it would work operationally, fairly and legally for businesses and communities, still need to be worked through.
In the meantime, producers can continue to register even after yesterday's deadline, and I would encourage any who have not to do so as soon as possible.
Advice and guidance is available from Circularity Scotland and SEPA, who has made clear it will take a proportionate approach to compliance. They will work with businesses to help them get ready – advice and guidance, not fines, will be the first step for any business that is clearly taking action, but struggling to meet their obligations.
Regarding the Internal Market Act, there is a process between the UK Government and devolved governments to allow for exemptions, which has already been used successfully to exclude Scotland's ban on certain single-use plastic items.
Following repeated requests for an exclusion dating back to July 2021, the First Minister has written to the Prime Minister this week, reiterating the UK Government must exclude the deposit return scheme regulations from the Internal Market Act.
Nonetheless, I can say that Scotland's deposit return scheme will go live in August with confidence because people have voted with their feet.
Producers have registered and I am grateful to them for doing so. They have done so because the overwhelming majority recognise their responsibility.
They don't want broken bottles or plastic litter on our streets, parks and beaches either. And they recognise that this scheme is the way to end that blight.
- Lorna Slater is the circular economy minister for the Scottish Government
Comments
 0 comments
Want to join the conversation? Please or to comment on this article.