The aim of the scheme is to reduce the amount of single-use drinks containers ending up in landfill or as litter by offering a cash incentive to consumers to dispose of them properly.
The DRS, the final design of which is still being debated, was originally due to be delivered in March 2021. But the launch was postponed, first to July 2022 and then, as a result of the pandemic, to the current date this August.
Further additions and improvements are expected after the initial rollout, including measures which could align the Scottish system with schemes due to be established in the rest of the UK.
So what will change when the DRS is launched?
Extra 20p on bottle purchases and multipacks
Shoppers will pay 20p extra at the till for each bottle or can of drink purchased, whether soft drinks or alcohol. It will apply to all PET plastic, metal and glass containers. This means multipacks will go up by 20p per unit, meaning a 24-pack of fizzy drinks will leave you with an extra bill of £4.802
Special barcode on all items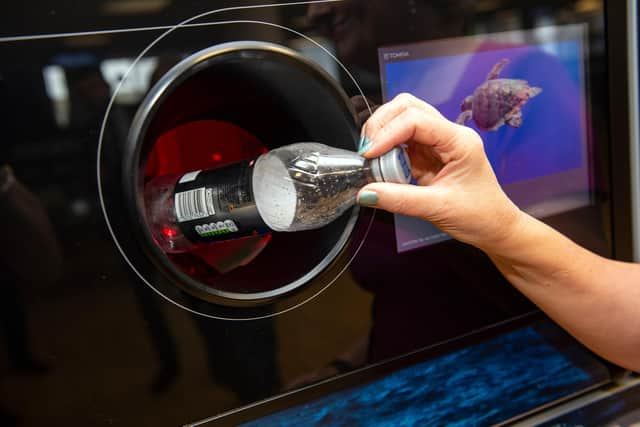 Eligible items will carry a special barcode to denote their inclusion in the DRS.
20p refund on eligible items
It's important to note that the likes of plastic milk cartons – usually made from HDPE – and other non-PET containers are not included in the scheme, so people must continue to recycle these as usual through council rubbish services. Consumers will receive a refund of the 20p levy when empty containers are returned to a DRS collection point. This will be issued as cash or in vouchers, which can be redeemed in shops or else exchanged for hard currency.
Reverse vending machines installed
Reverse-vending machines will be installed in places such as supermarket car parks and shopping centres. These will allow customers to feed in their empties and collect the refunds. It will likely mean many people saving up the containers and bringing them back by car when doing their weekly shop.
Over the counter collection points
Some shops, cafes and other retail outlets will not be able to provide custom-built DRS facilities due to lack of space or other constraints, so many– but not all – will offer 'over-the-counter' collection points instead.
Take back scheme rolled out
Take-back schemes for online orders will also be rolled out as part of the DRS – this will be useful for people who have their grocery shopping delivered, but the exact details of how this will work are yet to be revealed.
Reduction of plastic waste
The DRS is expected to scoop up at least 90 per cent of single-use drinks containers, cutting the number of plastic bottles ending up as litter by around 34,000 every day. Estimates suggest an extra 76,000 tonnes will be recycled annually and around four million tonnes of climate-warming carbon emissions be cut over a 25-year period.
Local authorities to cut collections?
The introduction of the DRS may prompt some local authorities, which are responsible for domestic recycling, to stop collecting items that are included in the scheme. This could impact recycling revenue and potential service delivery, as scrap PET plastic, aluminium, steel and glass have a high resale value.
Less rubbish – and a potential source of income?
It is hoped the 20p per bottle refund will be a sufficient reward to stop anyone casually dumping their empties, but if not – think of all those beer cans lobbed on the ground after impromptu 'picnics' – there will be an opportunity for sharp-eyed litter-pickers to make a few quid. It's not a new concept – remember those returnable glass 'ginger' bottles back in the day. So if the DRS itself doesn't achieve the mission to clean up our streets, countryside and seas, perhaps an army of keen entrepreneurs will sweep up any remnants.
A reduction of producers serving Scotland
Boost for pubs and restaurants?
But the good news is many of theses bespoke beverages could possibly still be available in pubs and restaurants, or 'closed loop' environments, which don't have to charge the deposit because you're not meant to take the bottles away.