The finance secretary has backed calls to pause the scheme to allow businesses some "breathing space" to recover from the cost-of-living crisis. It comes as UK Hospitality Scotland urged candidates to put the "flawed" scheme on the back burner amid concern over the impact it will have on trading.
The scheme, which is set to begin in August, will see shoppers pay an extra 20p when purchasing drinks in a can or bottle, with the deposit then returned when they bring back the empty container for recycling.
But businesses have until midnight on Tuesday to sign up for the controversial scheme and industry figures have warned it could impose potentially fatal costs on their business.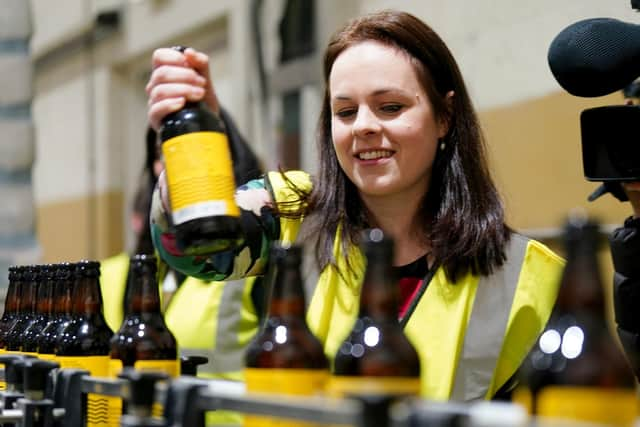 Speaking on Monday as she launched her official leadership campaign at the Cairngorm Brewery in Aviemore, Ms Forbes said the scheme was "well intentioned", but stressed significant concerns had emerged about its execution.
She told journalists: "It's execution is leaving businesses like [the Cairngorm Brewery] fearing for their future. It's leaving businesses like this fearing the economic carnage it will cause if the timetable continues as planned right now.
"The idea of having a deposit return scheme is sound, but we cannot have a scheme that is well intentioned, but fails to achieve its aims and causes economic carnage in the process."
She added: "[Businesses] back the scheme, they want it to work. But right now, they do not have the information and the confidence in an overly complex scheme."
In an appeal to party members as she takes on health secretary Humza Yousaf and Ash Regan for the top job, Ms Forbes told businesses to "trust my track record of delivering for them" in her capacity as finance secretary.
She added: "What businesses need is a bit of breathing space. They have gone through Covid, Brexit, the cost of living, their energy bills have gone up exponentially and the Government should be giving them a bit of space rather than putting additional complex bureaucratic requirements on them."
Circular economy minister and Green MSP Lorna Slater said at the weekend that small drinks producers may be given a one-year exemption from the planned scheme.
UKHospitality Scotland executive director Leon Thompson said: "The flawed model, complexity and burdens of the scheme will put unnecessary pressure on both businesses and consumers, who are all struggling with the cost-of-living crisis.
"These cast-iron facts, alongside concerns around how it could impact trading with the rest of the UK, necessitate an immediate halt to the scheme's introduction and I am calling on all leadership candidates to commit to pausing and then ordering a full review of this now discredited scheme.
"With all nations in the UK planning to introduce a deposit return scheme, we need to see a UK-wide scheme that works for businesses and consumers, as well as all our sustainability and net-zero goals.
"Hospitality businesses are not against a scheme, but they want one that takes account of the excellent rates of recycling across our sector and targets resources where DRS can make a difference to littering and sustainability targets.
"The current iteration does none of that which is why a full review is now essential."
Mr Yousaf has also said he would go ahead with a similar exemption to the one being considered by Ms Slater if he becomes first minister, while Ms Regan has said she would delay the scheme.
A UK Government spokesman said: "The Scottish secretary has urged the Scottish Government to pause its scheme and work with the UK Government on a solution that works for both Scotland and the whole of the UK. That would be the best way to maximise environmental benefits, minimise disruption to the drinks industry and ensure choice for consumers."
The Scottish Conservatives have also demanded an emergency ministerial statement on Tuesday. Tory MSP Maurice Golden said: "It should never have got to the stage where, on the eve of the deadline, key questions about the scheme remain unanswered – such as, will there be a grace period for small producers and, if so, what is a small producer.
"But, astonishingly, that's where we are. This could be cataclysmic for the firms affected. It's no exaggeration to say there are 24 hours to save Scottish businesses. That is why we must have an emergency ministerial statement tomorrow – to lift the cloud of uncertainty and fear hanging over them."