Fergus Ewing, a veteran of the party and a former Government minister, launched a scathing and furious attack on the deposit return scheme in the Scottish Parliament on Tuesday, accusing the minister responsible, Lorna Slater, of failing to answer "relevant, pertinent, vital questions".
The former rural economy secretary, who was sacked following the 2021 election, attacked Circularity Scotland's decision to extend the time for payments from seven days to a month for those using automatic reverse vending machines.
"Tens of millions, if not hundreds of millions, has been invested on the basis of those commercial terms," he said.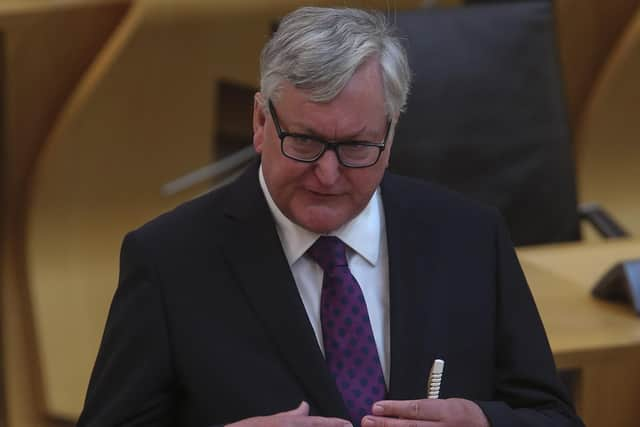 "Now that seven-day period has been extended to one month, a decision taken by Circularity Scotland with zero, zero consultation with convenience stores, nor any explanation, nor any press release, hidden away on page 23 of this document.
"Does the minister agree this decision by Circularity Scotland was taken in both an underhand and a sleekit fashion? Second, was she consulted on that decision, and third, will she now order Circularity Scotland Limited to rescind that decision?"
The Scottish Green minister said businesses had three options – either to apply for an exemption, act as a manual return point or have return vending machines. The second option is the most suitable for small businesses, she said.
However, she confirmed there would be "longer" payment terms for those using the machines.
Ms Slater said: "Their payment terms will be longer, but that is very unlikely to affect the small businesses which the member is so concerned about. This is an industry-led scheme, as was agreed across the chamber, and therefore the fees related to the scheme are a matter for industry to decide."
This response led Mr Ewing to ferociously attack the scheme and the minister, and saw him repeat the question as to whether Ms Slater was consulted on the payment term change.
He said: "Businesses have been misled, duped and deceived by Circularity Scotland. There is irrefutable proof of that. The minister has completely failed for the second week running to answer relevant, pertinent, vital questions."
Ms Slater failed, however, to answer the question on whether she had been consulted on the scheme, leading to a series of questions from opposition MSPs in an attempt to clarify. Both Maurice Golden, the Scottish Conservative MSP, and Colin Smyth, the Scottish Labour MSP, repeated the question asked already by Mr Ewing twice.
In response, Ms Slater repeated the line the Government had no role in setting the fees for the scheme. The exchanges follow a row over when the Scottish Government 'formally' requested an exemption from the Internal Market Act for the scheme.
The UK Government said such a request was received on Monday, with the Scottish Government stating discussions had begun in 2021.
Want to hear more from The Scotsman's politics team? Check out the latest episode of our political podcast, The Steamie.