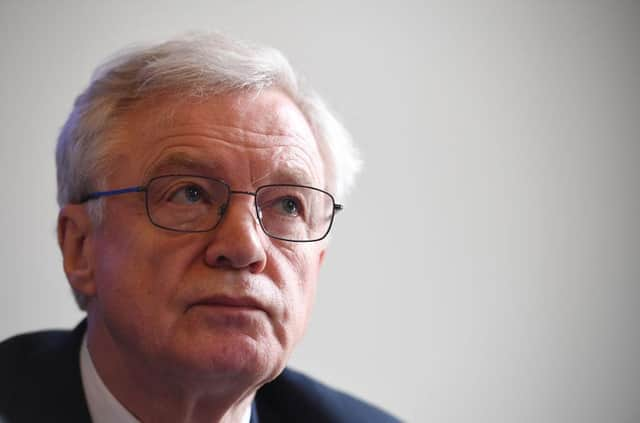 Former Brexit Secretary David Davis has accused Sturgeon's chief of staff Liz Lloyd of lying to the Scottish Parliamentary inquiry. (Picture: Getty Images)
Senior Conservative MP, David Davis has used his parliamentary privilege to read out alleged text messages from a senior SNP aid, who he claims is a whistleblower.
The move has resulted in the Scottish opposition calling on Nicola Sturgeon to make clear when she knew about complaints against Mr Salmond.
So, what did Mr Davis say, has the Scottish Government responded and what is parliamentary privilege? This is what you need to know.
Davis has been the MP for Haltemprice and Howden since 1997, serving the Conservative party in Westminster.
He is a former member of the cabinet, having held the positions of Secretary of State for Exiting the European Union from 2016 to 2018.
He was also the Shadow Home Secretary from 2003 to 2008, opposing Tony Blair's government and Europe Minister under Prime Minister John Major from 1994 to 1997.
He has proven popular with his Conservative and cross-party colleagues, in campaigning against redactions to civil privacy and security.
This included leading the opposition on plans to allow police and security services to extend their monitoring of the public's email and social media communications.
On 16 March, he stood in the House of Commons and read unpublished evidence from the Salmond Inquiry, using parliamentary privilege.
What did he say about the Salmond Inquiry?
Speaking in an adjournment debate, Mr Davis read out information he claims to have received from an SNP whistleblower.
He said these contradicted the First Minister's Chief of Staff's claims that she did not know about the investigation against Mr Salmond until April 2018.
He claims Chief of Staff Liz Lloyd was interfering in the complaints process against Alex Salmond, and that the messages showed "a concerted effort by senior members of the SNP to encourage complaints".
Mr Davis told the House of Commons: "The information consisted of a download of text messages from the telephone of Sue Ruddick, the Chief Operating Officer of the SNP.
"Now Alex Salmond has asserted that there has been a 'malicious and concerted attempt to remove me from public life in Scotland.
"These are incredibly grave charges. The whistleblower clearly agrees with those charges. He or she starts their communication with the assertion that the evidence provided, and I quote 'point to collusion, perjury, up to criminal conspiracy.'"
Mr Davis added that "no single sequence of texts is going to provide conclusive proof of what the whistle-blower described as a 'criminal conspiracy'.
"But it does show a very strong prima facie case which requires further serious investigation."
He accused Liz Lloyd of lying when she took the oath that she did not know about allegations in February 2018.
Davis continued: "I have it on good authority that there exists from the 6th February 2018 an exchange of messages between civil servants Judith McKinnon and Barbara Alison, suggesting the First Minister's Chief of Staff is interfering in the complaints process against Alex Salmond.
"If true, this suggests the Chief of Staff had knowledge of the Salmond case in February, not in April, as she has claimed on oath."
He added that Nicola Sturgeon had "tied herself to (an) April date in both parliamentary and legal statements. She was of course aware earlier than that: the question is just how aware and how much earlier."
If the allegations were to prove true and Nicola Sturgeon had been untruthful in her statement to the inquiry and parliament, this would suggest she broke the ministerial code - which her critics refer to as a "sackable offense".
This evidence had not been made available to the public, but Mr Davis shared it using his ministerial parliamentary privilege.
Salmond had previously urged the Holyrood inquiry to seek text and WhatsApp messages between civil servants, ministers and special advisers, or other relevant evidence.
However, the texts they received were ultimately not published, as MSPs felt it wouldn't be in the public interest to publish the private communications, which they said "were safe spaces for confidential support."
What is parliamentary privilege?
According to the UK parliament's website, parliamentary privilege "grants certain legal immunities for Members of both Houses to allow them to perform their duties without interference from outside of the House.
"Parliamentary privilege includes freedom of speech and the right of both Houses to regulate their own affairs."
This means MPs and Lords can announce information in either chambers of the parliament, which is not public knowledge for reasons such as super-injunctions, and freedom from arrest on civil matters.
This does not extend to crimes unrelated to their position as a minister. Therefore, if they break civil law for a reason other than to honour their duty as a public servant, they can still be arrested and charged.
Davis used his privilege to share the alleged information regarding civil servants' messages which suggested that Liz Lloyd interfered in the complaints process against Alex Salmond.
The messages included an email between two aids, which read: "Liz interference v bad," sent in February 2018.
Davis highlighted that he used his privilege as an MP to disclose the information, as the Scottish Parliament does not have the same privilege.
"We have, in effect, given the Holyrood inquiry, the right to summon evidence, but not to use it. It is because of these failings I brought this debate today," he said.
"We need to reinforce the ability of the Scottish Parliament to hold its own government to account. I am here to strengthen the Scottish Parliament not to bury it."
Has the Scottish Government responded to his claims?
Following Davis' speech, the First Minister released a statement in which she defended her own actions and those of her head civil servants.
A spokesman for the First Minister said: "As with Mr Salmond's previous claims and cherry picking of messages, the reality is very different to the picture being presented.
"Every message involving SNP staff has been seen by the committee previously. Their views have been widely reported as dismissive of them."
Regarding the claims about her chief of staff, the spokesperson said: "The comment read out by Mr Davis in relation to the Chief of Staff does not relate to Ms A or Ms B and, at that time, she was not aware that there was any connection to the former First Minister."
However, Scottish Conservative leader, Douglas Ross, called on Sturgeon to confirm or deny the allegations that she knew of complaints against Mr Salmond in February 2018, as prior knowledge would have been "an outrageous breach of those women's privacy and confidentiality".
Mr Ross said: "February 2018 is also two months before Nicola Sturgeon originally claimed to find out about complaints. If her chief of staff knew then, and was interfering in the investigation, it blows another enormous hole in the First Minister's story.
"If civil servants said the First Minister's chief of staff was interfering in the investigation, then that is a sacking offence. It raises serious questions about how she tried to interfere, how she found out, who told her, when she knew, and who she went on to tell.
"It further raises the question if anyone told Nicola Sturgeon that her chief of staff was interfering in the investigation. If they did, a number of lies have been told to the Scottish Parliament. If they didn't, it still makes Nicola Sturgeon's story of when she claims to have found out about complaints even more implausible.
"These are all 'ifs'. We need Nicola Sturgeon to immediately confirm or deny these new allegations, and to agree to release the evidence that has been cited this week."
The Scottish Parliament inquiry into the handling of complaints of misconduct is due to draw to a conclusion in the coming days.