Speaking in an adjournment debate, Mr Davis said: "The information consisted of a download of text messages from the telephone of Sue Ruddick, the Chief Operating Officer of the SNP.
"Now Alex Salmond has asserted that there has been a 'malicious and concerted attempt to remove me from public life in Scotland...
"These are incredibly grave charges.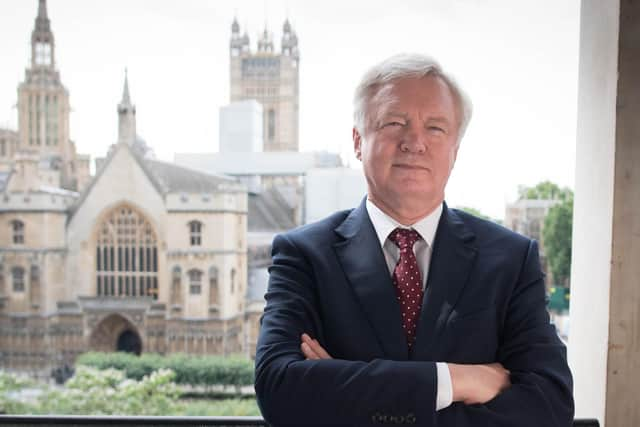 "The whistleblower clearly agrees with those charges.
"He or she starts their communication with the assertion that the evidence provided, and I quote 'point to collusion, perjury, up to criminal conspiracy."
Mr Davis added that "no single sequence of texts is going to provide conclusive proof of what the whistle-blower described as a 'criminal conspiracy'.
"But it does show a very strong prima facie case which requires further serious investigation."
He claimed that the messages showed "a concerted effort by senior members of the SNP to encourage complaints".
He also claimed that the messages he received showed that the First Minister's Chief of Staff knew about the allegations against Mr Salmond months before originally asserted, saying: "I have it on good authority that there exists from the 6th February 2018 an exchange of messages between civil servants Judith McKinnon and Barbara Alison, suggesting the First Minister's Chief of Staff is interfering in the complaints process against Alex Salmond.
"If true, this suggests the Chief of Staff had knowledge of the Salmond case in February, not in April, as she has claimed on oath."
Scottish Conservative leader Douglas Ross responded to Mr Davis's speech saying: "If the First Minister's side were aware of complaints against Alex Salmond in February 2018, an outrageous breach of those women's privacy and confidentiality has occurred.
"February 2018 is also two months before Nicola Sturgeon originally claimed to find out about complaints. If her chief of staff knew then, and was interfering in the investigation, it blows another enormous hole in the First Minister's story.
"If civil servants said the First Minister's chief of staff was interfering in the investigation in a 'very bad' way, then that is a sacking offence. It raises serious questions about how she tried to interfere, how she found out, who told her, when she knew, and who she went on to tell.
"It further raises the question if anyone told Nicola Sturgeon that her chief of staff was interfering in the investigation. If they did, a number of lies have been told to the Scottish Parliament. If they didn't, it still makes Nicola Sturgeon's story of when she claims to have found out about
complaints even more implausible."
A spokesman for First Minister Ms Sturgeon said in a statement: "As with Mr Salmond's previous claims and cherry picking of messages, the reality is very different to the picture being presented.
"Every message involving SNP staff has been seen by the committee previously. Their views have been widely reported as dismissive of them."
A message from the Editor:Thank you for reading this article. We're more reliant on your support than ever as the shift in consumer habits brought about by Coronavirus impacts our advertisers.
If you haven't already, please consider supporting our trusted, fact-checked journalism by taking out a digital subscription.