China spying row: Why MPs are worried about spying allegations and it's not just about documents
The parliamentary researcher was arrested by police in Edinburgh over spying allegations
The researcher, who has denied the allegations, was director of an influential policy group on Beijing co-founded by security minister Tom Tugendhat. He grew up in Edinburgh where he attended George Watson's College.
Arrested in March, the 28-year-old was also employed as a researcher by Alicia Kearns, chairwoman of the Commons foreign affairs committee.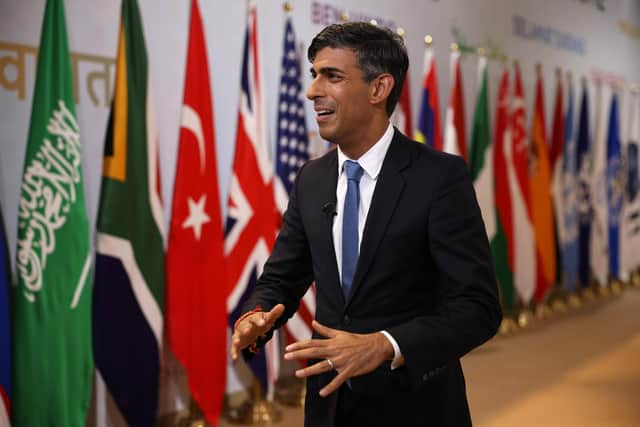 His arrest and the response to it has shone a light not just on the difficulties of dealing with China for the UK Government, but the fears many MPs now have about those around them. Just last year, MI5 issued a rare security alert, warning suspected Chinese spy Christine Lee had engaged in "political interference activities" on behalf of China's ruling communist regime. She had donated more than £500,000 to Labour MP Barry Gardiner before the warning.
Responding to details of the researcher's arrest, Rishi Sunak confronted China's premier at the G20, but hasn't gone any further than asking questions. His justice secretary Alex Chalk labelled China an "epoch defining threat", then immediately apologised, saying he just meant the Government had to "take it extremely seriously".
This speaks to the debate at the heart of the Government on how to respond to Beijing. Mr Sunak is trying to re-set relations with China, something not made easy by former prime minister Liz Truss's visit to Tibet.
He has shown anger over the incident, but no apparent intent to change his approach. UK ministers are being told to call it a "challenge" rather than a threat", while foreign secretary James Cleverly recently became the first senior UK figure in five years to visit Beijing to speak to Chinese officials.
For many MPs, this isn't enough. Several have told The Scotsman they were worried not just about this case in isolation, but what measures were in place to prevent spies infiltrating UK democracy. Stewart McDonald, an SNP MP with a deep understanding of China, told this paper that Parliament needed new protections – a view shared by his colleagues.
There was also panic before the researcher's name emerged, with MPs wanting to check if they'd had meetings with the alleged spy and, if so, to recall what they may have said.
While much of the reporting has focused on documents possibly being stolen, which are not believed to have contained sensitive information, this is not just what spying entails. Much like journalism, it's measuring the mood, hearing what different parties think about different subjects, what compromises MPs might be considering, or what their links are to various countries.
The concern is so much more than documents. Concerns include 'could they have been influenced? Has parliamentary debate been shaped by third parties with a secret agenda?
Then there's the matter of security, with a genuine sense of unease about how to best protect Parliament.
The researcher was vetted as a parliamentary passholder who is believed to have spent time in China. As one Whitehall source put it: "We've got to do something, but are we just going to ban people who've spent time in countries like these? It would probably work, but is that acceptable? I just don't know."