Ben Wallace confirms plans to resign as defence secretary and step down from Cabinet in wake of Ukraine remarks
Ben Wallace spoke about his resignation plans as he pledged his support for Ukraine after suggesting the invaded country should show "gratitude" for the military support it has been given.
Ben Wallace has said he plans to resign at the next Cabinet reshuffle after four years as defence secretary.
He told The Sunday Times he would stand down as an MP at the next election, but ruled out leaving "prematurely" and triggering another by-election for the Conservatives to battle.
Mr Wallace, who survived three prime ministers in his role, played a key part in the UK's response to Russia's invasion of Ukraine and was a close ally of Boris Johnson.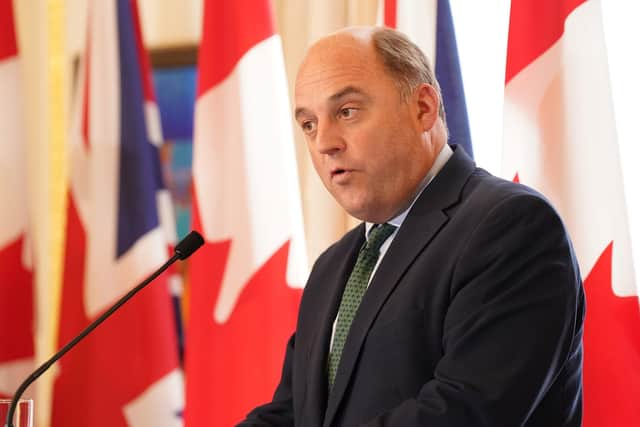 His Wyre and Preston North constituency will disappear at the next election after boundary changes and he said he would not seek a new seat.
"I went into politics in the Scottish Parliament in 1999," he said. "That's 24 years. I've spent well over seven years with three phones by my bed."
He suggested he would continue to call for higher defence spending, which he has campaigned for throughout his time in the role.
Mr Wallace had expressed an interest in standing for the position of Nato secretary-general before it was announced the chief, Jens Stoltenberg, had been given another year in charge.
The minister told The Economist there were a "lot of unresolved issues" in the military alliance and "it's not going to happen." Mr Wallace later downplayed the prospect of a future bid to run the organisation.
Mr Zelensky later said: "I believe that we were always grateful to United Kingdom. I don't know what he meant and how else we should be grateful."
Mr Wallace has now pledged his support for Ukraine, saying his remark was not a comment about governments, but "more about citizens and members of parliaments".
He tweeted: "My comments about how best to support Ukraine caused a lot of interest and were somewhat misrepresented. For the record, as someone who has been at the forefront of mobilising support for Ukraine, I have discussed the challenges that may arise as we work towards the common goal of helping Ukraine get what it needs to defeat this illegal invasion.
"I said that Ukraine sometimes needs to realise that in many countries and in some parliaments there is not such strong support as in Great Britain."
Mr Wallace is believed to have told Rishi Sunak on June 16 of his plans to stand down from Cabinet. He told the Sunday Times his departure was due to the strain the job had put his family life under.
Popular within the Tory party, Mr Wallace is the longest continuously serving minister in Government, having been security minister under Theresa May before being promoted to defence secretary by Mr Johnson.
He was previously appointed as a whip in 2014 and a junior minister in the Northern Ireland Office in 2015 while David Cameron was prime minister.
Comments
 0 comments
Want to join the conversation? Please or to comment on this article.