Analysis: Future of rural subsidies in Scotland remains unclear
It is one of the drier policy areas in Scottish and European public life, but the Common Agricultural Policy (CAP) has been a lifeline for the country's agriculture sector and rural communities for decades.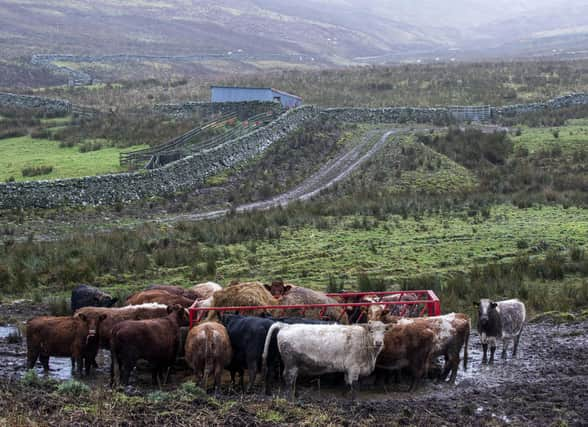 The policy, launched by Brussels in 1962, is effectively a partnership between agriculture and wider society, which aims to ensure farmers can make a reasonable living, guarantee a stable supply of affordable food, and help tackle climate change.
Each year, the Scottish Government administers hundreds of millions of pounds in payments to farmers, crofters, and land managers.
While the vast majority of funding goes to ordinary farms, the way in which wealthy landowners and those who run large estates - the majority of which run mixed business models - are able to claim sizeable sums has long been a source of controversy.
Critics of the model point out the amount of public money received by community buyout groups is a drop in the ocean compared to the fiscal support provided to large landowners; the counter argument runs that it is those landowners who invest in local economies and communities.
As of this year, Scotland has the lowest amount of direct farm funding, per hectare of farmland, in the EU.
However, when considered by claimant, rather than hectare, it has one of the highest rates of direct farm funding, per farm, in the EU.
Whichever way you look at it, the funding is vital, and at a time when Brexit and the coronavirus pandemic have sown doubt, many people in the sector wonder what the future holds.
The answer, for now, is a tentative business as usual.
While the end of the Brexit transition period on Hogmanay will signal a technical end of the CAP in Scotland, its mechanisms will carry on for the foreseeable future through the auspices of the Scottish Government, with only minor tinkering.
The bedrock of the scheme is a basic payment, topped with various other initiatives, such as funding for those who invest in forestry, promote 'greening' methods designed to help meet national and EU-wide environmental and climate goals, or bolster the rural economy. All those schemes will continue.
Under the slew of legislation put in place to account for the UK's exit from Europe, the existing architecture and rules of the CAP system is being brought into domestic law, via the EU (Withdrawal) Act 2018 and the Direct Payments to Farmers (Legislative Continuity) Act 2020.
And Chancellor Rishi Sunak last month outlined £570 million to support Scottish farmers, land managers and the rural economy in 2021/22.
With agriculture devolved, the Agriculture (Retained EU Law and Data) (Scotland) Bill, which passed in Holyrood earlier this year, gives ministers here the opportunity to modify that retained EU law.
Fergus Ewing, the rural economy secretary, has said the schemes which form part of CAP will be "simplified".
Regulations around 'greening', for example, which are designed to deliver environmental and climate change benefits, will cover permanent grassland, but will not require crop diversification.
But the future of Scotland's economic rural support policy remains subject to discussion. The Scottish Government has put in place a transition period until 2024, by which point it hopes to introduce a replacement system.
The Scottish Greens argue the current system of direct payments at present does not have a sufficiently "strong enough link with the delivery of public goods", and unfairly benefit larger landowners and those who receive public money without necessarily requiring it. It wants a wholesale review of the direct payments and curbs on payments.
The party's Mark Ruskell MSP believes that a cap on payments would "shift the balance" towards the active and considered delivery of public goods in exchange for public funding, while also freeing up resources to help bankroll the delivery and trialling of a new Scottish payments scheme.
However, he noted that any capping levels should be rigorously analysed so as to ensure specific business, regions and sectors do not suffer financial hardship.
Scottish Land & Estates, the rural business group that represents land managers and estate owners, argues there should be a more "integrated approach" to land use, and that enhancing the profitability of land-based businesses should be a top priority.
In its submission to a Scottish Government consultation on rural funding transition, it stressed there no should be no cap on payments, reasoning that any such instrument would be "counterproductive" and a "blunt instrument".
Sarah Jane Laing, the organisation's chief executive, said: "The CAP was undergoing reform before Brexit and the general direction of travel was to reduce support where benefit was not evident.
"Scottish Land & Estates has long believed that any future policy regime should put greater emphasis on delivering public benefit and goods whilst also recognising the world-class food production for which Scotland is famous.
"Investment of public money in land management is justified because it underpins productive land-based businesses and creates jobs that are the bedrock of the rural economy and rural communities, but in the context of restricted public budgets it is reasonable that businesses continue to demonstrate the wide range of public benefits delivered."
She added: "We have advocated that rural, land-based businesses need to be less reliant on public money and instead make changes to enable them to improve their resilience. This can only be achieved, however, if there is an economic driver.
"Not all public good created can currently be measured or valued properly. Examples of public goods include natural flood management, human physical and mental health benefits and carbon sequestration."
A message from the editor:Thank you for reading this article. We're more reliant on your support than ever as the shift in consumer habits brought about by coronavirus impacts our advertisers. If you haven't already, please consider supporting our trusted, fact-checked journalism by taking out a digital subscription.
Comments
 0 comments
Want to join the conversation? Please or to comment on this article.