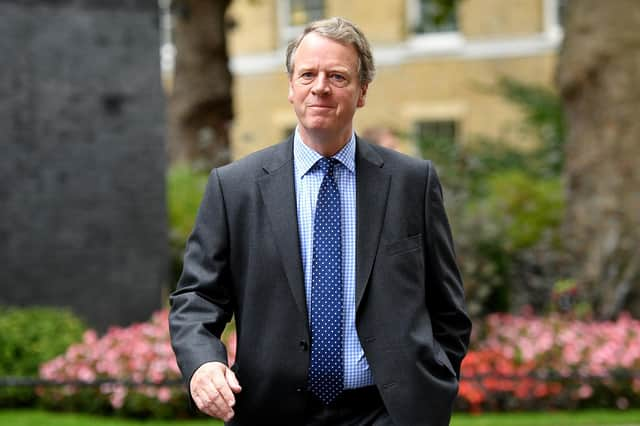 The Scotsman has looked at which MSPs, MPs and councillors have received EU Common Agricultural Policy (CAP) payments since the Brexit referendum, in the first part of this series.
And the investigation has shown Conservative politicians across Scotland recouped nearly £3 million over that time, with some MSPs receiving several hundred thousand pounds a year thanks to the scheme.
Senior Tory figures, including Alister Jack, the secretary of state for Scotland, have benefited from the subsidies, which are designed to help farmers make a reasonable living.
The group includes Donald Cameron, the Scottish Tories' shadow health secretary, who owns a £6.5m Highland estate that has received more than three quarters of a million pounds.
They are among a seven-strong group of Conservatives who have received a total of £2,810,270 in CAP payments between 2016 and 2019.
Some payments were made directly to individuals, while others went to entities in which the politicians have shareholdings or partnerships.
Politicians from other parties have received European subsidies - First Seer Limited, a firm that owns the croft business of Ian Blackford, the SNP's Westminster leader, was paid £1,499 last year - but the amounts were far less than the payments made to Tory counterparts.
The details of the funding, part of an investigation across Scotland on Sunday and The Scotsman into agricultural subsidies, comes just a few weeks before the Brexit transition period comes to end. The biggest policy shake-up to the farming sector in a generation will see Scotland enter a transition period, before adopting a new domestic agricultural policy.
While the existing subsidy framework sees the Scottish Government distribute the majority of funding - some several hundred million pounds - to ordinary farms, the debate over how CAP's mechanisms should be amended, and ultimately replaced, has refocused attention on how some of the country's wealthiest and most prominent landowners benefit from large payments.
Critics say it provides tranches of public funding to those who do not need it, but representatives of estate owners argue the rural businesses are key investors in local communities and economies.
The SNP accused the Tories of "funneling EU cash into their coffers" at a time when Scotland's farming and food sectors were facing up to a "dark time" as the transition period nears an end.
But the Scottish Conservatives said all the payments were "legitimate and transparent," and stressed that any suggestion of impropriety by its elected members was untrue.
Details of the subsidies emerged following an analysis by Scotland on Sunday of payments by the Scottish Government's rural payments and inspections division - cross referenced with parliamentary registers of interest, Companies House records, and Registers of Scotland title deeds.
While there is no suggestion of illegality or impropriety on the part of the elected representatives involved, none of the MSPs or MPs chose to voluntarily declare the exact subsidy payments in their registers of interests at Holyrood and Westminster. There is no statutory obligation for them to do so.
Records maintained by the UK Department for Environment, Food, and Rural Affairs (DEFRA) show that Mr Cameron's Achnacarry estate near Spean Bridge has received £764,920 in EU subsidies since 2016.
The records state that in 2018 alone, £305,736 was paid to the estate. However, it is understood Mr Cameron claims the recorded 2018 payment is higher than the actual amount the estate received, and intends to contact DEFRA.
Achnacarry, which spans more than 60,000 acres, has been a source of influence and power in Scottish life stretching back centuries. It is the seat of the chiefs of Clan Cameron, and became famous through its wartime role as a training base for Commandos in the 1940s.
In recent years, it has been favoured as a shooting location for several Hollywood film crews, and under Mr Cameron's ownership, the estate also offers a range of self-catering accommodation.
Even before receiving the CAP payments, Mr Cameron was already one of Scotland's wealthiest politicians.
In his register of interests entry, the 43-year-old, who was his party's Europe spokesman until this year, states the estate yields a gross annual income in the range of £450,000 to £460,000, but notes that for the year ending April, that income was offset by costs and losses. Mr Cameron also states that although the business trades in his name, he does not receive any taxable income from it.
Companies House records show the corporate entity behind the estate, Achnacarry Development Limited, is classed as dormant, meaning it is not required to file a profit and loss account.
At Westminster, Mr Jack, who has said no-deal Brexit would not cause "serious damage", has also benefited through the CAP scheme. His register of interests shows that he owns more than 15 per cent of the issued share capital in Courance Farms, a firm which received £350,051 between 2016 and 2019.
The MP, who runs a 1,200 acre dairy farm at Courance, near Lockerbie, made the majority of his estimated £20m fortune via a self-storage firm and a series of investments.
Another senior Tory, Sir Edward Mountain MSP, is a partner in a large estate holding that received £436,083 over the same period.
The baronet and landowner is a partner in Delfur Farms, based in Moray. The convener of Holyrood's rural economy committee owns 15 properties with a cumulative market value of £2.6m and also owns 500 acres of farmland in Moray worth up to £3.5m.
Elsewhere, Tory MSP Jamie Halcro-Johnston, who owns 150 acres of land in Orkney, is a partner in J Halcro-Johnston and Sons. It received more than £351,120 in subsidies.
The shadow cabinet secretary for the rural economy's register of interests states that if the farm partnership returns a profit, he anticipates receiving an annual remuneration of £1,000 to £2,000.
Peter Chapman, who stressed earlier this year that leaving the EU will have "many benefits for our rural industries," is a partner in an eponymous farming partnership in Fraserburgh which has received £355,142 in CAP payments.
The North East MSP also receives up to £10,000 a year in utilities payments for his home from the same partnership, as well as annual interest payments of between £5,000 and £10,000.
At the opposite end of the country, in Girvan, South Ayrshire, one of the party's veteran MSPs, John Scott, is a partner in W Scott & Sons, which received £298,940.
Mr Scott, who represents Ayr, owns agricultural land and property worth between £800,000 and £900,000, according to the register of interests. The entry states that this generates a gross annual income of around £200,000. He also owns three other properties in the region worth up to £550,000.
Those at Holyrood and Westminster are not the only members of the party to benefit from the CAP system.
Sir Jamie McGrigor, who served for 17 years as a Tory MSP for the Highlands and Islands until standing down ahead of the 2016 elections, has since re-entered life as a councillor in Argyll & Bute. It is a role that commands a £17,449 salary, a far cry from the remuneration on offer at Holyrood.
However, since 2016, his income has been bolstered by £254,014 via CAP payments.
The 71-year-old baronet owns Ardchonnel estate, which includes a farm and more than 3,000 acres of hill land by Dalmally. The country house at its centre, overlooking Loch Awe, is let out for self-catering holidays.
Scottish Labour's rural economy spokesman Colin Smyth said: "At a time when such support is the subject of political debate post-Brexit, the least the public expect is for elected representatives to be more open and transparent about the financial gains they and their firms make from such support.
"Many people are really struggling to make ends meet across Scotland's rural communities, including many farmers, and they will understandably ask why their taxes should be lining the pockets of wealthy Conservative MPs and MSPs."
The Scotsman insert approached every MP, MSP, and councillor for comment, but none chose to respond individually.
In a party-wide response, a Scottish Conservatives spokesman said: "Any suggestion of impropriety by our elected members in relation to CAP is untrue. All these CAP payments are legitimate and transparent. Details of every penny paid is publicly available online.
"Our elected members adhere to the rules governing the registers of interest at Holyrood and Westminster. Any suggestion they do not would also be false.
"Strict rules on what must be registered by MSPs and MPs have been agreed by the Holyrood and Westminster parliaments and we are aware of no proposals from other parties to change those rules."
He added: "Without such proposals, these are nothing more than opportunistic and unfounded political attacks masquerading as calls for greater transparency.
"Scotland's farmers work hard to feed the country and provide vital jobs. We should be proud of our robust and innovative agricultural and food production sector which is the beating heart of rural communities across the country."
A message from the editor:Thank you for reading this article. We're more reliant on your support than ever as the shift in consumer habits brought about by coronavirus impacts our advertisers. If you haven't already, please consider supporting our trusted, fact-checked journalism by taking out a digital subscription.