Alba Party: What does Alex Salmond's new party mean for the SNP?
It took the SNP just 41 minutes after Alex Salmond began speaking to dismiss his new Alba Party and candidacy in the Holyrood elections as "the most predictable development in Scottish politics".
Certainly anyone who thought Alex Salmond's desire to be involved in Scottish politics had lessened, that he would be cowed after "three years of hell" as he has described the impact of facing sexual harassment allegations, court cases and parliamentary inquiries, and want to step back from public life, hasn't been watching closely enough.
He was never going to exit stage right before a final act.
The wild conspiracy around the criminal trial, which saw him cleared of all charges, was always the allegations were trumped up to prevent him from returning to frontline politics, that Nicola Sturgeon was apparently so concerned about being overshadowed by the man who had led the charge for independence until falling at the hurdle of the 2014 referendum, that she wanted him humiliated, his reputation besmirched, or even locked up.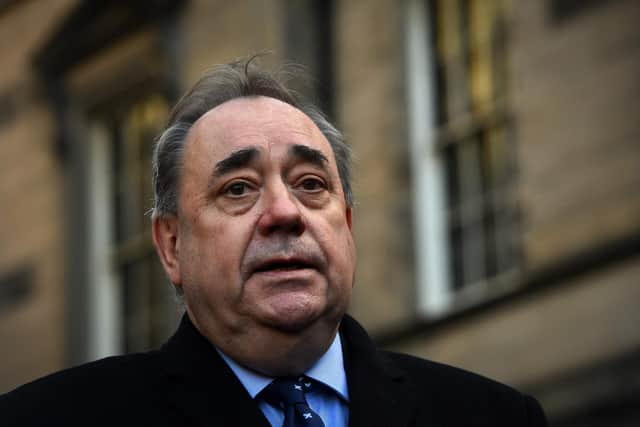 Of course, none of that has ever been proved in the trial or the three inquiries which followed, and all along there were suggestions and rumours that Salmond still wanted back in the SNP, that he wasn't done, that he was determined to be key to any second independence referendum.
It's been all too obvious for some time that any wish to return to the fold would be roundly rejected, and with a host of new pro-independence parties sprouting up as a result of the internal divisions within the SNP over its independence, it was surely only a matter of time for Salmond to join one of them.
He has plumped for the Alba Party. Established just two months ago by a retired television producer, it will now be the vehicle for Salmond's longed-for return to Holyrood.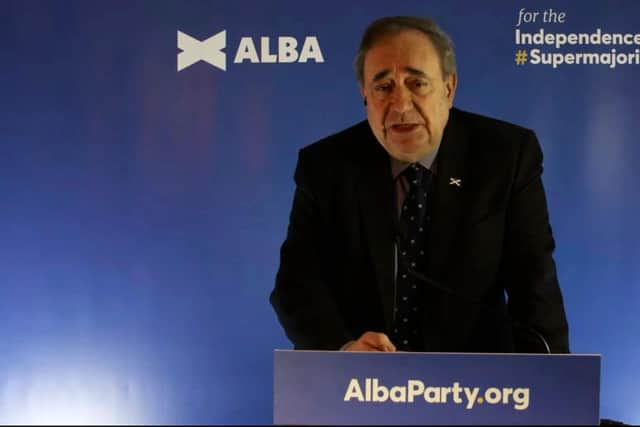 So far just four candidates have been announced to stand on the regional lists, but when candidate nominations close on Wednesday the plan is to have at least four in each of the eight parliamentary regions.
A super-majority for independence is, he says, the aim. To soak up the "wasted" votes for the SNP on the list and take them from the Conservatives, Labour, Liberal Democrats and even Greens.
It's the same aim of the Independence for Scotland party, and Action for Independence, and indeed the Scottish Greens.
But will it work? Will Alba be the new Change UK – sinking out of sight after electoral humiliation. Or will it be, as he humbly alluded, more like Emmanuel Macron's En Marche, which was catapulted to power a year after its founding?
The polls would say no. The SNP looks likely to be on course as a majority government, even if only just, by winning in the constituencies. Such is the volume of their support in actual seats, that it rules out their chances of picking up more MSPs via the list.
Salmond and others are right the Both Votes SNP strategy would be a waste of the million or so pro-independence votes, which are then redistributed to people's second and third choices, which could include unionist parties.
Which is why the Scottish Greens are currently being predicted to return a record number of MSPs, with tactical voting seeing SNP supporters giving Patrick Harvie's party their list votes.
Any more pro-indy parties on the ballot – especially one with as recognisable a figure as Alex Salmond at the helm – could eat into their vote share rather than damage the SNP in any way.
However, the polls also say that Alex Salmond is not as well-liked among the electorate as he once was. As public awareness rose over the last month of the parliamentary inquiry into the government's handling of sexual harassment complaints against the former first minister, it seemed his popularity dropped.
When asked whether they trusted Salmond 57 per cent – up three per cent from December – said they trusted him less than before the inquiry began.
It's that kind of polling which also saw the SNP say, while he was still answering questions about his new party, that "the interests of the country must come first and should not be obscured by the self interest of someone who shows no sign whatsoever of reflecting on serious concerns about his own conduct" – concerns which, to put it mildly, raise real questions about the appropriateness of a return to public office.
The polls also show that SNP voters strongly back Sturgeon, with 49 per cent believing she told the truth to the inquiry, and only 13 per cent believing she did not. These numbers are reversed for Salmond – 14 per cent think he has generally told the truth, while 42 per cent disagree. It's hard then to see SNP supporters deciding to give their second vote to the Alex Salmond Alba party.
Despite that, Salmond has made it clear that he is also hoping to soak up the female vote – that is the vote of women who have been dismayed by what they see as the SNP attempting to remove women's legal sex-based rights as it attempts to expand the rights of transgender people.
It has caused a bitter division and seen many women quit the party – including Colette Walker now standing for the ISP – and casting about for another pro-independence party to support.
What is for sure though is an election campaign which was going to be far flatter than most given Covid campaigning restrictions has suddenly become far more about personalities than policies.
The Salmond-Sturgeon show is not yet ready for its final curtain.
A message from the Editor:Thank you for reading this article. We're more reliant on your support than ever as the shift in consumer habits brought about by Coronavirus impacts our advertisers.
If you haven't already, please consider supporting our trusted, fact-checked journalism by taking out a digital subscription.
Comments
 0 comments
Want to join the conversation? Please or to comment on this article.