The Queen's granddaughter Zara Tindall has given birth to her third child, a baby boy.
The professional horse rider married England rugby player Mike Tindall in 2011, and the pair have since welcomed two daughters - Mia, aged seven, and Lena, two.
On Sunday 21 March, Zara gave birth to their son and Mike then announced it on his popular podcast, The Good, The Bad and The Rugby.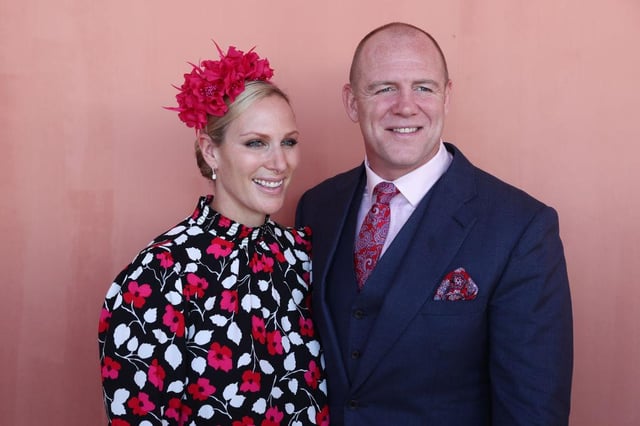 Mike and Zara married in 2011 and have three children - Mia, Lena and Lucas (Picture: Getty Images)
Here is everything you need to know about their new arrival.
What is their son's name?
The Queen's great grandchild has been named Lucas Philip Tindall, a spokesperson for Zara and Mike confirmed.
He weighed 8lbs 4oz, and mother and baby are doing well.
Tindall told his fans his wife was a warrior, before joking he wouldn't have any more children as he now has a son.
He said: "As every man will say, she was a warrior as always, they always are," before adding: "I literally was like: 'Yep, snip, snip, snip.' I've got a boy. I'm out. I'm out of here."
Mike said that the birth of his son was the highlight of his weekend, despite competing with three Six Nations fixtures.
He told listeners to his podcast: "Sunday got even better because a little baby boy arrived at my house.
"[He] arrived very quickly. Didn't make it to hospital. On the bathroom floor."
Zara reportedly gave birth to Lucas on the bathroom floor of their home at the royal Gatcombe estate in Gloucestershire.
Tindall was taken by surprise with how quickly events unfolded, as he rushed to get a mat for his wife to labour on.
He said: "So yeah, it was running to the gym, get a mat, get into the bathroom, get the mat on the floor, towels down, brace, brace, brace."
He said Zara's friend Dolly, who had been present at her two previous births, was also at Lucas' delivery.
"She was there and recognised that we wouldn't have got to hospital in time," Mike said.
"Fortunately the midwife who was going to meet us at the hospital wasn't that far away so she drove up just as we had assumed the position and the second midwife arrived just after the head had arrived."
Mike added that Lena and Mia had been staying away from home, as Zara had been contracting throughout the day. Lucas was delivered at 6pm.
Tindall said he was glad the birth had taken place at home, commenting: "The best thing was, as soon he's wrapped up, he's skin on skin, straight downstairs. TV room. Golf on. This is what we're doing."
Is the baby in line to the throne?
The newborn is the 10th great grandchild of Queen Elizabeth and Prince Philip.
He is joined by Prince William's children - George, Charlotte and Louis - Prince Harry's son Archie; Princess Eugenie's newborn son, August; his sisters, Lena and Mia; and his cousins, Savannah and Isla Phillips.
Lucas' middle name is the same as Princess Eugenie gave to her son, August Philip.
Lucas is only 22nd in line to the British throne and will not receive a royal title.
Buckingham Palace said the Queen and the Duke of Edinburgh are "delighted" at the news and "look forward to meeting their 10th great-grandchild when circumstances allow".
Families across England will be allowed to meet in private gardens from 29 March, though indoor gatherings are not permitted until at least 17 May.