Her overnight fame saw her following increase to 50,000 people, and it was here that the first abuse started.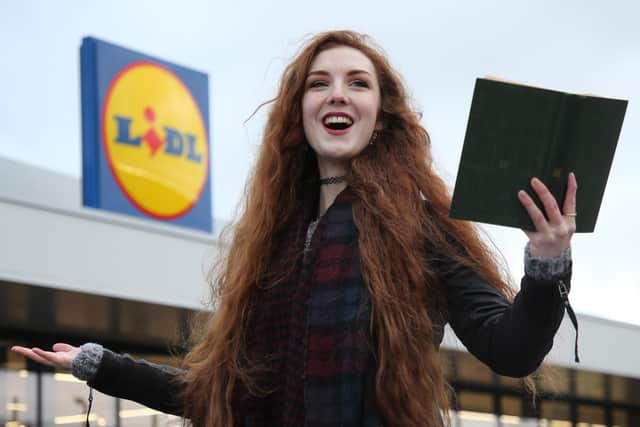 She explained: "Before this, I'd always just had friends and family listen to my work and they think you're all that and a piece of shortbread you know?
"My writing is very personal...when the backlash hit I thought 'oh my God, I've done something wrong'.
"The thing about Twitter, when someone comments, everyone who follows them can see.
"So if someone really hates Scottish poetry and comments, their followers post too."
Len said that the hate posts came in "ripples" as one person would comment something negative, and then their followers would pile on quickly.
This hit a peak just a few days before Christmas when former politician George Galloway retweeted Len with the comment "Scottish nationalism. The future" and later, under one of Len's Scot's word of the day posts with "What's wrong with you?"
Mr Galloway has a following of 359.9K on Twitter.
"Suddenly there were hundreds of people hurling abuse at me," Len said: "This was just a couple of days before Christmas, I had to turn my phone off, I was in floods of tears.
"I'm so lucky that I was at home with my family at that time I have a support network.
"I'm somebody's granddaughter, I'm somebody's daughter...for my parents to see me in tears over this….
"I'm human, you wouldn't treat somebody you saw as human that way- you think your attacks don't hurt me, but they do."
The abuse levelled at the student was both misogynistic, and political, with many claiming she must be a nationalist and dragging her into the debate on Scottish Independence.
Len explained that she has tried to make it clear several times that her work has nothing to do with politics, and it is an expression of her love for Scots language and culture.
She added: "People think that a celebration of Scottish culture is an attack on British culture."
She has been called an SNP whore, bitch and c**t by masses of anonymous Twitter accounts, who comment both publicly and private message her.
Many have told Len to just ignore it, or block them, but this strategy doesn't always work.
She said: "This wasn't one or two accounts to block, there were hundreds.
"And lots just create another account and send more abuse, they tell me they've done this. They say 'you tried to block my other account,'"
There has been support online for the poet though, with big names such as Janey Godley, no stranger herself to online abuse, and author Neil Gaiman standing up for her.
She smiled: "Janey Godley gave me advice and mentorship on how to deal with abuse, which was incredible.
"And Neil Gaiman tweeting my work, I couldn't have imagined it."
She concluded: "I don't want to be any kind of famous, I just want to write, and have that respected."
A message from the Editor:Thank you for reading this article. We're more reliant on your support than ever as the shift in consumer habits brought about by Coronavirus impacts our advertisers.
If you haven't already, please consider supporting our trusted, fact-checked journalism by taking out a digital subscription.