Westhill shopper scoops £1k for foodbank in Aldi's Supermarket Sweep
Aldi Scotland's much-loved Supermarket Sweep challenge recently returned to Westhill, and lucky local winner has raised £1,275.80 for a foodbank of their choosing, while picking up £637.90 in Aldi favourites for himself.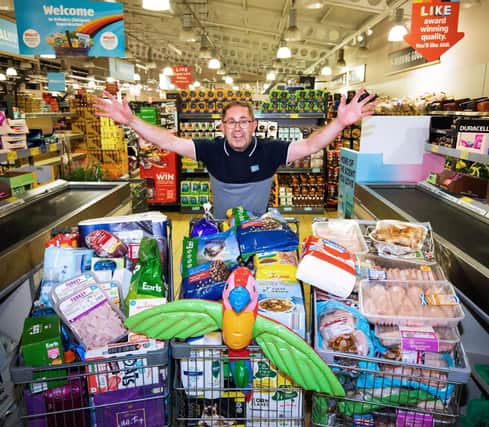 Aldi's popular gameshow inspired Supermarket Sweep arrived in Westhill and lucky shopper Paul who was chosen as the winner of an in-store competition, took part in the five-minute trolley dash for charity on Thursday, April 20.
As well as taking home a trolley full of goodies, Paul successfully found the hidden inflatable in store, meaning Aldi Scotland doubled the total value of his haul and donated the lump sum to his nominated charity, The Portlethen Larder.
Aldi Supermarket Sweep winner, Paul McPherson, said: "I found the opportunity to take part in the Supermarket Sweep as a once in a lifetime event that you dream about. Taking part was so much fun and rewarding.
"I was delighted to have helped my local foodbank as they provide such a valuable service in the local area."
Leigh McKenzie, Chairperson at The Portlethen Larder, said: "I went along to support Paul at the Westhill Supermarket Sweep, but firstly, can I say the manager and his staff involved were just so lovely and welcoming.
"Paul was clearly on a mission and did an amazing job with his wife and son there to support him, we all cheered him on.
"Paul was very focused and wanted to raise a good amount of money for the larder- and boy, he did! This money will help us so much buying in fresh fruit, vegetables and meat for the families and elderly people we support.
"Thank you to Aldi Scotland for running this competition as it means so much to us smaller foodbanks."
Richard Holloway, Regional Managing Director for Scotland, said: "We are proud that the Aldi Supermarket Sweep is a firm favourite across the country, and we are so pleased to bring it back this year.
"Congratulations to Paul who managed to raise an incredible £1,275.80 for The Portlethen Larder and snap up a whole load of Aldi treats for himself."