"I'm sorry," she apologises, unnecessarily, "It makes me really teary thinking about it. I don't think people realise what a massive impact theatre and the arts in general have on us, just how incredible the people who work in these buildings are and how much we love what we do so much. The prospect of getting to come back into this building to work is quite overwhelming..." she pauses, for a moment, "For everybody, this last year has been so difficult, people backstage are there because they love theatre too, not just because they like moving lights or humphing scenery."
Her smile returns, "Thankfully, now with vaccinations here there is a new sense of hope and optimism that we will have something to bring audiences to in the autumn."
The 40-year-old has a point. It's all too easy to forget the impact lockdown has had on not just actors but their colleagues in the wings and Front of House too. And talking of Front of House, the voice you hear over the Tannoy as you gather in the bar, urging you to take your seat for the performance, well, that's Claire too, making the pre-show announcement from her desk in prompt corner, stage left.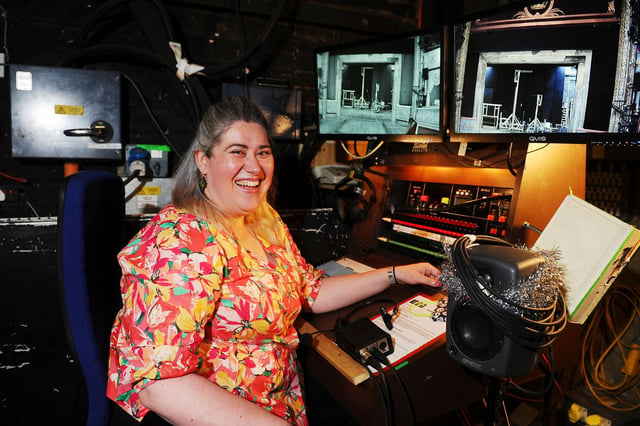 Claire Williamson, Deputy Stage Manager, Royal Lyceum, Edinburgh
That corner, with its monitor screens, high stool and control desk has been Claire's domain for 16 years now and 2021 marks her 20th year at the theatre. Having spent four years as an Assistant Stage Manager (ASM) before being promoted to DSM, today she is arguably the most important person on stage as the curtain rises. From lights to scenery and sound effects, nothing happens until Claire gives the cue.
She explains, "Being a DSM is a bit like working in air traffic control. Having gone through rehearsals and worked every lighting change, set change and sound effect with the director during the technical rehearsal I have a copy of the script with all the lighting and sound cues, notes of any time a piece of scenery moves, traps open or pyrotechnics go off.
"Their operators around the building are all on headsets. I'm connected to them and tell them via red and green cue lights, as well as verbally, when to standby. When we get to the cue, I tell them to go. I'm like a conductor."
She continues, "But the moment I love more than anything is the minutes before a show starts. I go on cans, my headset, check everyone is in position. Then the front of house manager lets me know the audience are in and seated. In that moment there is this brilliant little bubble of energy during which I can hear the audience chatter through the backstage speaker. All the operators are poised, ready to go, the cast are in place, it goes quiet and it's all on me to start the show. It's an incredible moment... the adrenaline is phenomenal."
Of course, over the years there have been times when some have not been as focussed as Claire. She laughs as she reveals, "I remember doing a Shakespeare, I gave the cue and two actors appeared on stage, a third didn't. The two had to ad-lib Shakespeare until the third arrived. He had been chatting in his dressing room and missed his cue."
Originally from Aberdour, it was a meeting with a guidance teacher that pointed the young Claire in the direction of a life in theatre, until then her thoughts had flitted from modern studies to politics to sociology.
"By sixth year I didn't really know what to do and she said to me, 'Well, what do you love to do?' I said, 'Theatre', and she asked, 'Do you want to be an actress?' I didn't want to be an actor. I just couldn't take the criticism," she admits. "Then my teacher said, 'Well, what about doing stage management?' I had no idea what that was and she explained it was looking after the props and the furniture. I thought I'd enjoy doing that, I'm practical and organised."
Applying for a place at Queen Margaret College, Claire trained first at the old Corstorphine campus and then at Elm Row. Coming to the Lyceum aged of 20, her first day found the company immersed in the tech run of a production of Glengarry Glen Ross. Kenny Ireland, who would later become a household name thanks to his role as swinger Donald Stewart in the ITV comedy Benidorm, was artistic director at the time.
"I'd only ever known him as a director so seeing him on Benidorm was brilliant but just a bit bizarre," she admits.
Claire went on to work with Mark Thomson, current incumbent David Grieg being her third artistic director.
"I've really enjoyed seeing their different perspectives on where they want to take the building and the company as a whole," she says.
Claire was working on a Lyceum co-production of Barefoot in the Park at Pitlochry Festival Theatre when lockdown hit and she recalls, "We were supposed to have two days off but got a call asking if we could come in on the Tuesday to record the show. The next morning I drove back down to Edinburgh where Mrs Puntilla and Her Man Matti had last played on the Saturday - the cast had got the call to say the Lyceum was having to close on the Monday. I helped pack up all the props and left the theatre on March 19 and didn't get back in until October."
Almost uniquely placed in the Capital as a production house, the Lyceum did manage to continue to be creative despite the pandemic, most noticeably through a series of streamed festive plays.
"I could never have imagined the past year," reflects Claire. "The fact we managed to do so much online, the distance we have had to keep from each other, however, the most massive discovery for me was that I hadn't realised how tactile a person I am and how tactile the industry is, suddenly not have that..."
Streaming those live shows over Christmas saw Claire's regular team reduced from between 10 to 12 plus a cast of up to eight or so to just two and a solo actor.
"With the restrictions I ended up doing a bit of everything but I can't wait to hear the hubbub of the audience again through my backstage speaker. I was chatting to David Grieg yesterday and from his perspective he is really anxious just to get people back into the building. We are looking forward to working with Edinburgh International Festival, hopefully welcoming smaller audiences for the Festival. So much is going to depend on government advice. We have talked in the past of having audiences masked and in socially distanced pods, I imagine, that unless the restrictions are lifted, that would continue."
A message from the Editor:
Let us know what you think and join the conversation at the bottom of this article.
Thank you for reading this article. We're more reliant on your support than ever as the shift in consumer habits brought about by coronavirus impacts our advertisers.
If you haven't already, please consider supporting our trusted, fact-checked journalism by taking out a digital subscription