Warning as Scottish study shows cats can contract Covid from their owners
Cat-owners suffering from Covid-19 should not keep their pets locked up in homes with infected people if possible, scientists have warned.
Unless they are indoor-only pets, cats should be encouraged to go outside to lower the chances of picking up the illness from their humans.
The advice comes as new research reveals that household cats have been contracting the same variants of the virus at the same time as the human population throughout the pandemic.
Scientists at the MRC-University of Glasgow Centre for Virus Research (CVR) first detected human-to-cat transmission of Covid-19 in April 2021.
Now analysis of samples taken from cats across the UK between April 2020 and February 2022 has revealed that individuals had been infected with the Alpha and Delta strains following emergence of these variants in the human population.
Studies also found that patterns of immunity to different variants in cats reflect those seen in people, indicating multiple ongoing human-to-cat transmission events.
However, it is unknown whether individual Covid variants are more or less likely to be transmitted from humans to cats, or whether infected cats are more or less likely to develop clinical signs.
Cats are not the only animals which can contract the coronavirus from people, although evidence suggests they may contract it more easily than other species.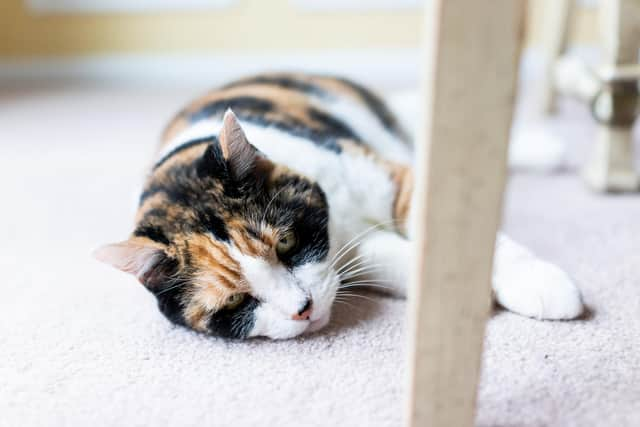 In most cases, infection causes mild or no symptoms and cats make a full recovery.
However, like humans, cats can die from Covid and may be more vulnerable to serious illness if suffering from other conditions such as heart disease.
The World Organisation for Animal Health has reported that 31 different animal species had been infected with SARS-CoV-2, the scientific name for the virus, by March 2023.
These include everything from pet dogs, ferrets and horses, to livestock and poultry such as cows and turkeys, wild animals like mink and even lions and tigers in zoos.
This has led to advice for infected people to 'distance' from pets and other animals, avoiding kisses, cuddles and close contact where possible.
The virus is believed to have originated in animals – likely bats – but can jump back and forth between humans and animals.
Most animal infections are thought to have come from contact with infected humans rather than other animals.
Although the Covid-19 'global health emergency' has been declared over by the World Health Organization, the virus remains in circulation – and likely always will – and still poses a danger, with new variants continuing to appear.
People are being advised to allow pet cats access to the outdoors where possible.
Professor Margaret Hosie, from the CVR, said: "We predicted that the low seroprevalence reported in cats early in the pandemic would increase as new, more transmissible variants emerged, and we are continuing to monitor cats for evidence of infection with currently circulating variants.
"Currently our recommendation is that if cats are regularly going outside then they should still be allowed outdoor access if their owners have Covid-19.
"This decreases the risk of the cats becoming infected from their owners."
Grace Tyson, a PhD student at the CVR and lead researcher in the study, said: "It is important that we continue to monitor SARS-CoV-2 infections in pet cats that are in close contact with their Covid-19-positive owners, as it will be important to monitor changes in transmissibility of emerging variants in cats as well as humans."
Comments
 0 comments
Want to join the conversation? Please or to comment on this article.