VJ veteran, 100, recalls work on Burma's death railway
A 100-year-old Second World War veteran has told of being captured by the Japanese and forced to work on the infamous Burma railway as part of commemorations to mark VJ day.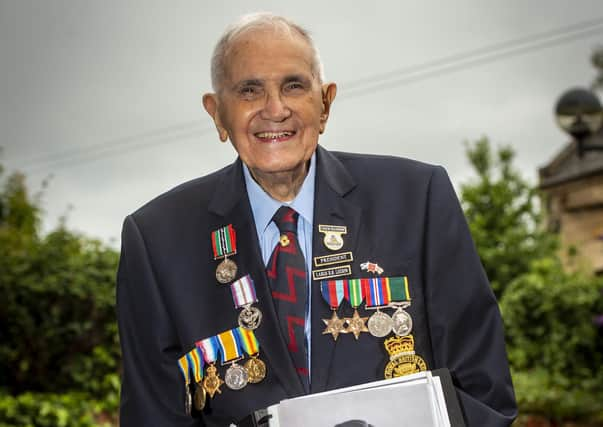 Jack Ransom was forced to work on the construction of the route between Thailand and Burma, now known as Myanmar, after being captured.
The centenarian said he was weeks from death before the dropping of the atom bombs by the US that led to the Japanese surrender.
He joined the Territorial Army in 1939 and was deployed to the Far East with the 118 Field Regiment Royal Artillery.
But after sailing from India to Singapore, Mr Ransom and his comrades were captured after Japanese forces invaded.
He spent more than three years – between 1942 and 1945 – working backbreaking seven-day weeks on the railway, which Japan wanted to transport supplies.
Mr Ransom, who lives in Largs, North Ayrshire, will be part of today's commemorations marking the 75th anniversary of Victory over Japan Day.
And looking back, he said he is disappointed the emperor of Japan did not send him a card to celebrate his 100th birthday.
Mr Ransom, originally from Peckham in London, said: "I never saw the Japanese until I was taken prisoner on Singapore island.
"We didn't surrender – we were ordered to surrender.
"We were marched from Singapore town up to Changhai to be prisoners of war (POWs).
"When I arrived, they needed people to work on the railway at the Burma border, so we marched from the start of the railway up to Burma – it was about 200 miles.
"Some of us got there, some of us didn't.
"Thinking back the past 75 years to 1945, there are three things that are in my mind.
"One, I never forget my comrades – those that did not come home.
"The second thing is, I always think that if it hadn't been for the dropping of the atom bombs I would not have been released in time to save my life.
"But, of course, in my mind is the thought that by dropping the atom bombs all of those civilians – men, women and children – died in Japan.
"And last thing, now that I am 100 and have received a birthday card from Her Majesty The Queen, I think of the emperor of Japan who should have also sent me a birthday card.
"After all, I did work for his grandfather, too."
Dr Claire Armstrong, Legion Scotland chief executive, said: "Mr Ransom is well loved and respected amongst our Legion membership and in the community of Largs.
"His account demonstrates a man of great resilience and humour, who, despite his experiences during the War, has gone on to live a long and fruitful life.
"On the eve of the 75th anniversary of this important milestone in our nation's history, we are calling on the nation to pause, to remember and to pay tribute to Jack, and so many other like him."
The campaign to recapture Burma was one of the longest fought by the British during the War, but they finally entered the capital, Rangoon, on 2 May 1945.
Comments
 0 comments
Want to join the conversation? Please or to comment on this article.