Visit Rosehearty and go for a walk!
Rosehearty Community Council have recently opened a new heritage trail, guiding the walker round the major historical sites in the village and its immediate environs.
To accompany this trail there are seven stop off points where story boards outlining the natural, cultural and historical aspect can be read.
The trail starts at the caravan site where you can read about the old Port Rae harbour and perhaps see some sailing boats belonging to Rosehearty Boat Club. From there you can walk up Castle Brae to the ruined Pitsligo Castle and read all about its fascinating history, then walk along a path to view the War Memorial where you can look down and see the entire village and beautiful panoramic view along the rugged coastline.
If you need a rest you can sit for a while on the new bench provided by the community council.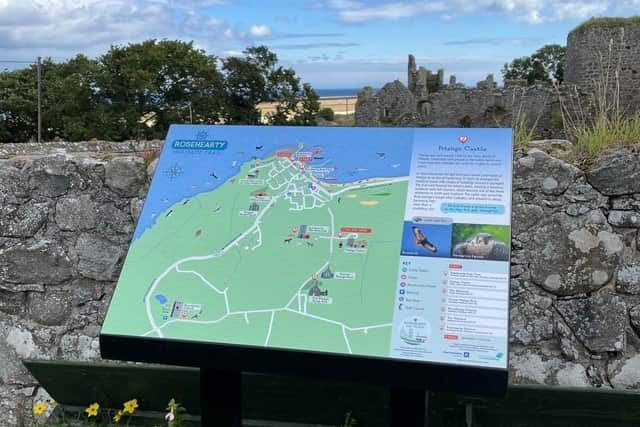 Once you have rested, you complete the trek up to Peathill Kirk Yard where you can see the ancient ruins of the original kirk and the more recent one that closed its doors for the final time in 1997. The old part of the cemetery is worth a gentle stroll around. There are many interesting old grave stones to be explored.
From there you walk along the road until you come to the Mounthooly Doocot where the storyboard gives you its history. This is an ideal spot for a picnic.
You would then walk back down into the village, passing North Street and along to the Rosehearty Tower, now a private residence, but was originally used by the RAF to target-spot for the military jets that regularly used the sea as a bombing range.
From here you can walk along the West Rocks, known locally, as the Wastard. This is a haven for nature lovers. You will see a variety of wildlife – birds, seals and dolphins. To complete the route you retrace your steps to the finish point at Rosehearty harbour, one of the oldest in Scotland.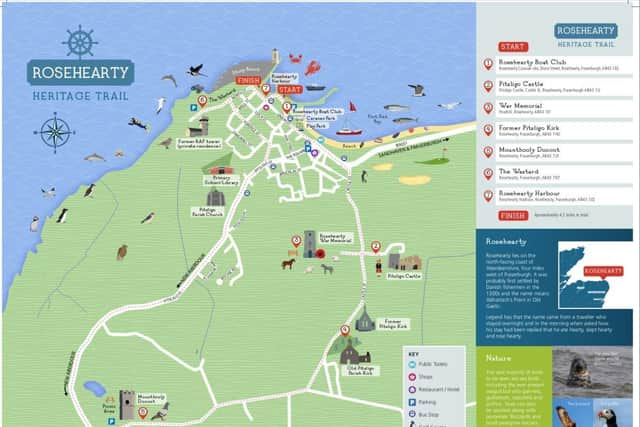 The entire walk is just over four miles and should take around 2-3 hours to complete, depending on how much time you wish to spend at each storyboard. You can walk, ride a bike or drive between locations.
Maps of the route are available to guide the walker. These can be obtained at Rosehearty Community Boat Club, Rosehearty School and the Davron Hotel.