Unique Fife project gives 1.5m goods free to families in need across Scotland
A unique project launched in Kirkcaldy to help people in the most need has now donated more than 1.5 million essential products to families across Scotland and Greater Manchester.
The charity initiative called The Multibank sat at the very heart of The Cottage's Big Hoose project in the Lang Toun. The 'click and collect service now supports over 1,000 local charities and professionals including social workers, teachers and midwives who can access goods for free from the warehouse in Lochgelly to get to families.
It began when Gordon Brown, former MP and Prime Minister, secured the support of Amazon to donate surplus goods to the Cottage.That link has now expanded to include a host of major businesses and retailers, and sits at the heart of an operation which supports frontline organisations across Edinburgh, the Lothians and Falkirk, and also Manchester after a visit to its Lochgelly warehouse by Mayor, Andy Burnam.
Amazon's role has included a contribution of pro bono staffing, operations and logistics expertise, and an initial cash grant of £150,000 - but the operation has grown since starting last year with the company, which has a fulfilment centre in Dunfermline, donating hundreds of thousands of surplus products, with support from around 30 other businesses.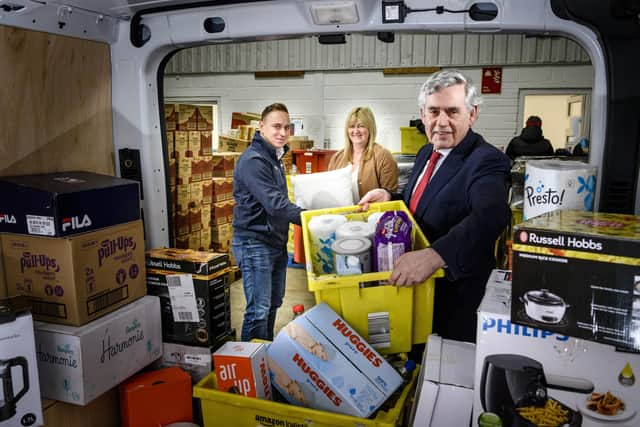 Goods such as bedding, toilet roll, nappies, wipes and toiletries to clothing, backpacks, home furnishings, lightings and electrical products having been donated, or banked, at the warehouse which was provided free-of-charge ahead of the initial launch by Bob Purvis, chairman of The Purvis Group.
The project's latest milestone came as an independent report, commissioned by Amazon and The Cottage, from the Social Value Lab revealed that every £1 invested by Amazon in The Multibank generates a social value of £5.95.
Mr Brown, said: "I thank Amazon for their willingness to experiment with redistributing their returned goods to families in need in Fife via the Cottage Family Centre, whose network and ability to get surplus goods directly to families and children in need is creating a path-breaking new model, where big corporations can do real social good at a grassroots level."
A warehouse in Lochgelly donated by the Purvis Group sits at the heart of the vast operation, handling donations from a host of businesses, including Fishers Laundry, Craig & Rose Paint, Morrisons, The Paint Shed, Blue Earth Clean, the Bell Group, Tesco, SemiChem, Vision, Morrisons, Scotmid, Purvis, PepsiCo, Unilever, Accrol, Kraft Heinz and others.
Added Mr Brown: "I'm grateful to Purvis, our own Fife based warehouse and logistics partners, who donated a warehouse and in which we have created our first Multibank, as well as our partners in Greater Manchester. We look forward to working with the pioneering systems created especially for us by Amazon to scale and speed up our own delivery operation as we seek to reach and support even more families facing another tough winter."
The scaling up of the project was underlined with the help of software development apprentices from the Amazon Development Centre Scotland who have built a new cloud-based tech solution to allow The Multibank's network of partners to get a real-time snapshot of the warehouse's inventory and request product donations for the people who need them most.
Milda Zdanyte and Declan Fisher, who are working towards a BSc degree in software dfevelopment and computer science at Edinburgh Napier University, have streamlined the workload of the warehouse team, who were previously manually logging inventory onto spreadsheets. The success of the project meant they were handling thousands of donations every week.
Milda said: "It's been a fantastic experience to build a complex piece of tech which will have a direct and positive impact on the community. The tech will help charity partners use The Multibank more effectively – by selecting specific product donations from a large range of stock online. It means we can get the right items to the right people at the right time."
Simon McMahon, senior programme manager for The Multibank in Amazon UK's Impact team, is originally from Fife. He has overseen the project since its inception.
He said: "There is no other project like it, offering this type of support to people for free. The success of The Multibank has far exceeded our expectations – we're now supporting over 150,000 families and 1,000 charities and trusted professionals across the two sites to date in Fife and Wigan. But we continue to be ambitious as more charities and businesses join The Multibank coalition in helping those who need it most."
Earlier this year The Multibank launched a second site in Greater Manchester after Mr Burnam's visit to Lochgelly - he is one of a number of senior politicians and dignitaries who have come to the venue to see the operation first hand. Known as "The Brick-by-Brick" project, it works with Wigan and Leigh charity, The Brick.
Comments
 0 comments
Want to join the conversation? Please or to comment on this article.