Turning back time with Edinburgh's giant Victorian tram wheels
They set in motion countless journeys across the capital and illustrate the turning times of the Edinburgh trams story.
Now, a large pair of Victorian-era tram cable wheels discovered on the historic boundary between Leith and Edinburgh during the long running revival of the capital's tram network will soon be put on permanent public display.
The wheels, dated to 1898, were used in the underground cable-winding mechanism for Edinburgh's original cable operated tram network.
Measuring 2.6 metres across, they were rediscovered at the Pilrig Street junction with Leith Walk in August 2021 as work on the new Trams to Newhaven route progressed.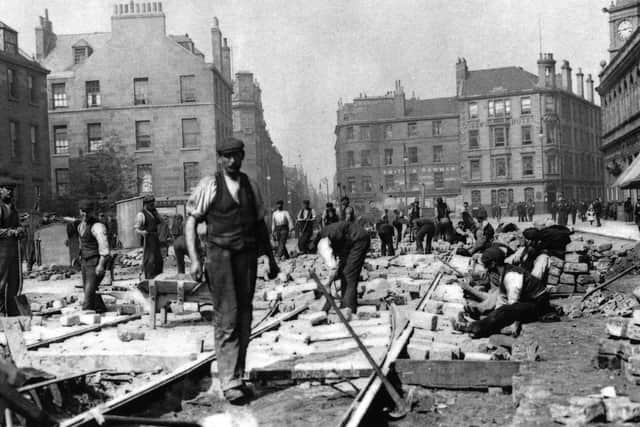 With the agreement of the surrounding community, the wheels will now become the centrepiece to a new meeting point on Leith Walk and will help link the past to the present of the public transport system.
The wheels will be installed close to where they were found and be surrounded by benches, flowers and information about the tram system, old and new, at the junction of Iona Street.
Councillor Scott Arthur, Transport and Environment Convener, said: "The presence of trams in Leith is part of its heritage, so it's fantastic that we'll be able to return these historic wheels to their home, for the community to enjoy and learn about.
"As we approach the completion of Trams to Newhaven, it's touches like these that demonstrate that, as well as delivering a sustainable, high-capacity transport link between the city centre and the north, the project is transforming spaces along the route."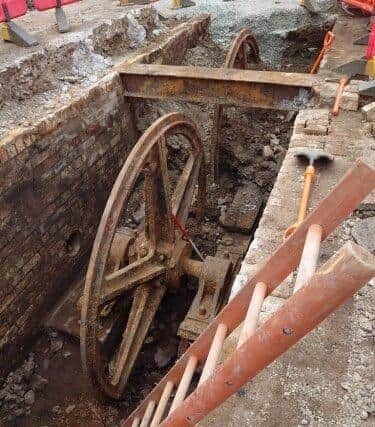 The wheels were in use until the early 1920s, when Edinburgh and District Tramways Company introduced an electric system.
John Lawson, City of Edinburgh Council Archaeologist, said he was "excited" to showcase the "Pilrig wheels" close to their original location.
"Celebrating our archaeological heritage with the public is an important part of the project. The wheels are a unique part of Leith's and Edinburgh's heritage and provide a fascinating link between the old and new tram systems," he added.
Created in 1905, Leith Corporation Tramways pioneered electric trams before Edinburgh updated its cable-operated tram system.
During this time, passengers travelling between Edinburgh and Leith would have to alight a cable-operated tram and board an electrified tram at the Edinburgh-Leith border. This became known locally as the 'Pilrig Muddle' and lasted nearly 20 years.
Work on the improvements at Iona Street, including the installation of the wheels, has now begun with work to take place over the next few monts.
The £207.3m Trams to Newhaven project will connect Leith and Newhaven to the current end of the Edinburgh tram line at York Place and bring eight new stops to the public. It is due to open to passengers this Spring.