Mudoch Allan of Peterhead took silver in the football and pie savoury category for its Pittodrie Pie which is served up at Aberdeen Football Club – so that's at least some silverware for the Dons this year!
Meanwhile, Pie Aroma of Strichen picked up three awards.
It received gold for its macaroni pie and silver medals for its sausage roll and cheeseburger pie, in the hot savoury category.
And finally the Hame Bakery of Peterhead took a bronze medal for its steak pie in the steak pie (hand held) category.
"With nearly 500 of the best pies on the market submitted by 78 of the best butchers, bakers and other pie makers for judging by 60 pie professionals, all of our winners can be proud of placing so highly in the competition" said Alasdair Smith, Chief Executive of Scottish Bakers who run the competition each year.
The winning products were all considered by the judges to be the best of the best when it came to taste, texture, appearance and smell across all the categories from the iconic Scotch Pie to Football Pies and Savouries, Macaroni Pies, Steak Pies, Sausage Rolls, Cold Savouries, Hot Savouries, Vegetarian Savouries, Haggis Savouries, Bridies and Apple Pies.
Carol Smillie presented the awards to the winners saying: "I am always delighted to present these awards, meet so many faces old and new and of course all those delicious pies!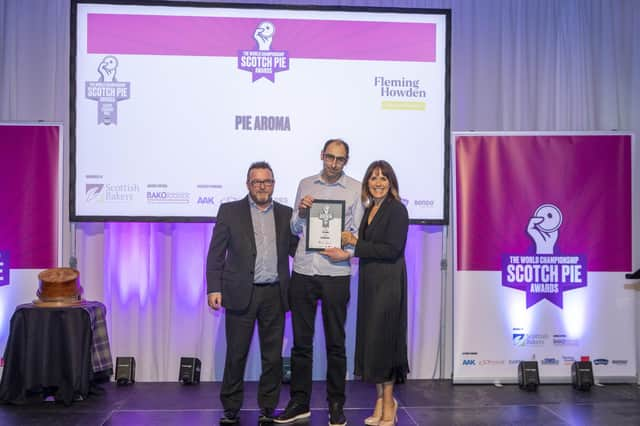 "These bakers and butchers consistently provide such high quality and the new faces tell me that the sector continues to thrive and prosper with more professionals than ever throwing their hats into the ring. Well done to all our winners."
Scottish Bakers, the association which supports the interests of Scotland's bakery trade, organises the annual competition to shine a light on the craft skills pie makers demonstrate day in and day out in producing Scotland's iconic Scotch Pies, football pies, macaroni pies and many many more.
For details of all winners see www.scottishbakers.org