Tributes paid to former Peterhead Prison warden
Tributes have been flooding in after it was announced that former Peterhead Prison warden Jackie Stuart has died at the age of 93.
Mr Stuart came to fame after he was taken hostage during the infamous Peterhead Prison seige of 1987 when he was dragged on to the roof and held by inmates for five days, which included being stabbed.
He was eventually rescued by the SAS when they stormed the building.
Mr Stuart had six weeks off work after the end of the siege before returning to his duties.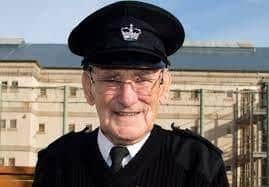 More recently, he has been a firm fixture at Peterhead Prison Museum, which he helped set up, where he imparted his knowledge of the jail to the museum's many visitors, happy to pose for photographs and answer any questions they may have.
He was awarded an MBE in 2021 for services to volunteering.
His death was announced on Facebook by the Museum.
Paying his own tribute, Museum operations manager, Alex Geddes, said the whole team had been devastated by the news of Jackie's death.
"Visitors from across the world loved it when he was on site and for them to meet him in person after the tour was the icing on the cake.
"His strength of character and fortitude throughout set the bar for many of us here to try and emulate, but none of us could ever quite make it.
"That said, Jackie was always there to encourage all our team and he was never short of coming forward to share his experiences with us, but in a pragmatic and humble way.
"Jackie will be sadly missed by all of us and his seat in the admissions area will remain as a reminder to us all of a man whose character is rare in today's world.
"Until we all meet again my friend, thank you for everything you have done for us."
Many took to Facebook to pay tribute to Mr Stuart.
Jacqueline Macleod said: "I'm so glad I got to meet him. He was dedicated to the core."
Gillian McDermott said: "What a gentleman. It was a pleasure to meet him a number of times and hear his stories."
Susan Lamb said: "A lovely and true gentleman. He will be missed by many.
"I bought his book and it was a great read. Returned to visit the prison just to see him again. RIP Jackie."