From Mark Renton's anti-Scotland diatribe to his stuff-of-legend "Choose Life" rant, the cult movie is full of gems.
Here, to celebrate Trainspotting's 25th anniversary on February 23, we look back at some of the film's most memorable moments.
1 – Mark Renton (Ewan McGregor): "Choose Life. Choose a job. Choose a career. Choose a family. Choose a f****** big television, choose washing machines, cars, compact disc players and electrical tin openers. Choose good health, low cholesterol, and dental insurance. Choose fixed interest mortgage repayments. Choose a starter home. Choose your friends. Choose leisurewear and matching luggage. Choose a three-piece suit on hire purchase in a range of f****** fabrics. Choose DIY and wondering who the f*** you are on Sunday morning. Choose sitting on that couch watching mind-numbing, spirit-crushing game shows, stuffing f****** junk food into your mouth. Choose rotting away at the end of it all, p****** your last in a miserable home, nothing more than an embarrassment to the selfish, f***** up brats you spawned to replace yourselves. Choose your future. Choose life... But why would I want to do a thing like that? I chose not to choose life. I chose somethin' else. And the reasons? There are no reasons. Who needs reasons when you've got heroin?"
2 – Francis Begbie (Robert Caryle): "Armed robbery. With a replica. I mean, how the f*** can it be armed robbery with a f***ing replica?"
3 – Mark Renton: "Sick Boy is seriously lacking in moral fibre."
Dealer: "But he knows a lot about Sean Connery."
Renton: "That's hardly a substitute."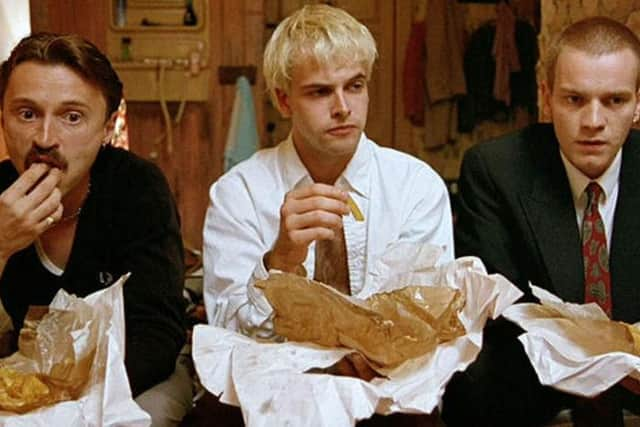 4 – Sick Boy (Jonny Lee Miller): "Personality, I mean that's what counts, right? That's what keeps a relationship going through the years. Like heroin, I mean heroin's got a great f****** personality."
5 – Mark Renton: "Well, I'll come back with you if you like, but like, I'm not promising anything, you know."
Diane (Kelly Macdonald): "Do you find that this approach usually works? Or let me guess, you've never tried it before. In fact, you don't normally approach girls - am I right? The truth is that you're a quiet sensitive type but, if I'm prepared to take a chance, I might just get to know the inner you: witty, adventurous, passionate, loving, loyal. Taxi! A little bit crazy, a little bit bad. But hey – don't us girls just love that?"
6 – Mark Renton "The downside of coming off junk was I knew I would need to mix with my friends again in a state of full consciousness. It was awful. They reminded me so much of myself, I could hardly bear to look at them."
7 – Interviewer: "Mr. Murphy, what attracts you to the leisure industry?"
Spud (Ewen Bremner): "In a word: pleasure. It's like, my pleasure in other people's leisure."
8 – Sick Boy: "All I'm trying to do is help you understand that The Name of the Rose is merely a blip on an otherwise uninterrupted downward trajectory.
Mark Renton: "What about The Untouchables?"
Sick Boy: "I don't rate that at all."
Renton: "Despite the Academy award?"
Sick Boy: "That means f*** all. The sympathy vote."
9 – Diane: "You're not getting any younger, Mark. The world's changing. Music's changing. Even drugs are changing. You can't stay in here all day dreaming about heroin and Ziggy Pop."
Mark Renton: "It's Iggy Pop."
Diane: "Whatever. I mean, the guy's dead anyway."
Renton: "Iggy Pop's not dead. He toured last year! Tommy went to see him."
10 – Mark Renton: "It's s*** being Scottish! We're the lowest of the low. The scum of the f****** earth! The most wretched, miserable, servile, pathetic trash that was ever s*** into civilisation. Some hate the English. I don't. They're just w******. We, on the other hand, are colonised by w*******. Can't even find a decent culture to be colonised by. We're ruled by effete ass*****. It's a s**** state of affairs to be in, Tommy, and all the fresh air in the world won't make any f****** difference."
A message from the Editor:
Thank you for reading this article. We're more reliant on your support than ever as the shift in consumer habits brought about by coronavirus impacts our advertisers.
If you haven't already, please consider supporting our trusted, fact-checked journalism by taking out a digital subscription.