From the moment Renton's burgundy Adidas Samba hit the pavement right slap bang on the snare, writer Irvine Welsh's punk sensibility was shaking the Trainspotting viewer, and listener, wide awake.
And as Renton and Spud pounded along Princes Street pursued by two John Menzies security guards, that drum beat and that song - even by that stage in 1996 20 years old – instantly became part of Britpop 90s culture.
The auditory slap which was Lust For Life in the opening scene of Trainspotting set the tone for the importance of the soundtrack to the film's story, and its success.
As Welsh was to later put it himself: "If it hadn't been for The Pistols and The Clash I would never have written Trainspotting,"
The music, from punk and New Wave anthems to trippy electrobeats, is completely intrinsic to our memories of key moments, from Renton's overdose to the tune of Lou Reed's Perfect Day, to his memorable love scene with Diane alongside Sleeper's cover of Atomic and Archie Gemmell's 1978 goal.
Director Danny Boyle told writer Alan Morrison: "We decided early on that we weren't going to score the film in a traditional way, so you look at the masters.
"You look at the way that Scorsese – particularly in Mean Streets – uses his music. One of the ways we can actually identify the period is to move from Iggy Pop through to dance music – [when] Renton moves to London and goes to a rave – right up to Pulp, Blur, Sleeper and Elastica. The film's timespan is impossible because Renton doesn't age and they don't cut their hair, but you feel you've moved through a period of time on a sensual rather than documentary level."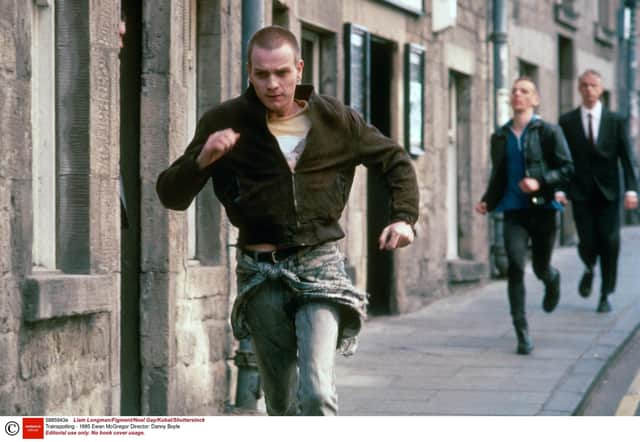 And the importance of inclusion on this soundtrack can't be over-stated. Within months a charity version of Perfect Day was number one, while movie producers Miramax cleverly re-cut Iggy Pop's Lust for Life video to include Trainspotting scenes, again directed by Danny Boyle.
Underworld's Born Slippy, the track which sees the film out, became the favourite of a generation, and sold over a million copies. They would never see chart succees of the same magnitude again.
In 2007, Vanity Fair ranked the Trainspotting original soundtrack at number 7 for best motion picture soundtrack in history.
In 2013, Rolling Stone listed it as the 13th best soundtrack in their 25 best soundtracks and In 2015, New Musical Express praised it as a "perfect snapshot of 1996 music."
With that in mind we have re-created a completely free Spotify playlist for you to listen to a deep dive selection of music from the movie.
You can access itfor free (to Spotify users) simply by clicking here. The full list of tracks is below.
Czech Philharmonic Ochestra – Carmen: Habanera
Brian Eno – Deep Blue Day
Underworld – Dark and Long
Ice Mc – Think About the Way
Fantasia – Trainspotting: Wjat You Dream of
Johann Fischer – Hertzlich thut mich Verlangen
A message from the Editor:
Thank you for reading this article. We're more reliant on your support than ever as the shift in consumer habits brought about by coronavirus impacts our advertisers.
If you haven't already, please consider supporting our trusted, fact-checked journalism by taking out a digital subscription.