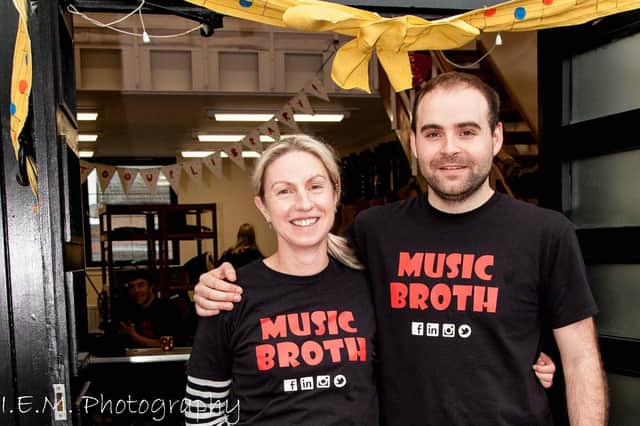 A musical instrument library is combatting isolation-related mental health issues in Scotland with their zero-contact, sanitised musical instrument and equipment delivery service.
With over 14,000 musical instruments and equipment on offer from upright pianos to clarsachs and fully kitted drumkits, Music Broth in Glasgow's Govanhill has a variety of instruments all kinds of music lovers can enjoy and relax within quarantine.
Founded by musicians, Felix Slavin,29 and Jen O'brien, 43, in 2018 as a social enterprise with charitable status, Music broth aims to make music more accessible and sustainable for communities across Scotland, especially during this difficult time.
Jen said: "The whole idea of Music Broth is to give people access to music when they wouldn't normally have access.
"Music can be a great way of bringing families together especially in lockdown, but it can also be a great way for people to have time for themselves alone with their instrument."
Electric guitar borrower Stewart Lochrie, 44, said: "I'm shielded and can't get out, so I decided to use the time to get back to learning the guitar.
"It's been a great help to me while stuck indoors these past few weeks.
"Normally, I'd have popped into a music shop and tried a few out before buying one, but obviously that's not been possible and won't be for a while yet."
Music borrower Denise Noble,45, said the service is a great help keeping her two daughters Nuala, 9, and Nina, 12, entertained: "All through lockdown, we've had a guitar and keyboard which has been great for the girls.
"It's been such a boredom buster and it's been great for getting everyone involved away from the computer and phone screens and it's allowed us to have some family time."
Her nine-year-old daughter Nuala who entertains the whole family with her 'Keyboard concerts' said: "I've enjoyed learning all the different songs on the keyboard and it's a nice distraction from my schoolwork and my laptop."
Initially starting up with eight members, Music Broth has now expanded its community and currently has over 199 members and 63 volunteers to date.
The library has delivered across Scotland; from Irvine to Paisley and from Glasgow to Edinburgh, they are committed to helping Scots everywhere achieve access to music particularly at a time when ill mental health is on the rise.
Charlie Reischl, 28, borrower and volunteer at Music Broth said: "The access to instruments has been totally key to keeping me sane during lockdown and improving my mental health.
"I've just come to Glasgow as a student and I wouldn't have been able to have access to the types of musical instruments I have if it wasn't for Music Broth.
"I've been taking out instruments without a huge commitment to buying them especially when money is getting tight in quarantine."
Since its opening in 2018, Music Broth has always been committed to ensuring everyone in the community has access to music without the added stress of finance.
Jen said: "We don't think it's right that only folks with pianos in their houses get to play music!"
"We've got some members right now who are not earning because of lockdown and we are super flexible with ensuring they still have access to the service even when they can't pay."
The library also provides free online music tutorials on their Youtube channel so that members can learn how to play new instruments in isolation.
Music Broth is adapting to lockdown circumstances and is currently working on creating an online musical instrument catalogue, listing all the instruments available in the library which aims to go live to the public by end of July.
The social enterprise relies on funding and donations to maintain its services and they are currently looking for a van to continue effectively delivering musical instruments to their expanding community.