'These deer are Olympians' - Watch this majestic footage of red deer swimming across scenic bay in North Uist during rutting season to Runrig song
It might be an unusual sight for many...
But this majestic video of red deer swimming across Lochmaddy Bay in North Uist is actually quite common.
Alex MacInnes, whose brother Angus John captured the footage while out fishing on Friday morning, said it is the rutting season for deer and, in this case, the male is taking his hinds somewhere new to rut away from challenging stags.
He says the deer often swim between the islands there for fresh grazing land, usually in smaller groups, something Mr MacInnes says both he and his brother have witnessed several times over the years growing up in the area in a fishing family.
Now based in Kishorn, on the mainland, Mr MacInnes says they would often see the cattle doing the same thing in his younger days.
He said his brother, who works for CalMac, often shares wonderful videos of nature from home and they have been "overwhelmed" by the response on social media to their latest video, which shows a stag and nine hinds swimming not far from their boat.
Mr MacInnes, who is a councillor for wester Ross, Strathpeffer and Lochalsh, said: "It's incredible. It's something I just took for granted growing up here. The thing that threw me is that some people (on Twitter) seemed quite concerned that something else was going on there.
"But I've been pointing out to people that these deer are actually Olympians and can swim and can jump phenomenal heights and they can run and run for miles. They really are lean, mean machines. The swimming between islands is something they have always done from generation to generation."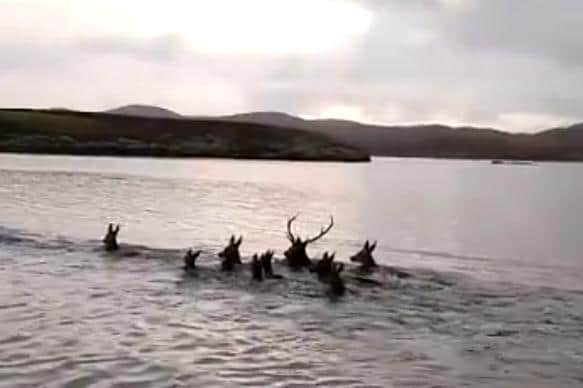 He stressed that the deer are used to his brother's boat passing and know they are safe and that he means no harm.
In the video, Runrig's track Book of Golden stories can be heard as the deer swim across the bay and the fishing boat sails past.
They were filmed swimming from Sponish to Lochportain islands and can also be seen swimming across the ferry navigatrion routes out of Lochmaddy.
The video has been retweeted more than 1,000 times and has received nearly 6,000 likes.
One tweeter, @gonniegeeza, said: "This tae me speaks fur the natural beauty o Scotland."