The four-piece from Whitburn spent more than a decade building up a devoted fanbase through constant gigging – and now they are finally reaping the benefits.
While owing a considerable debt to indie darlings The Libertines and Arctic Monkeys, The Snuts' debut album, WL, takes the template and runs with it.
Frontman Jack Cochrane says the record is his band's "life's work", as the other three members – guitarist Joe McGillveray, bass player Callum Wilson and drummer Jordan "Joko" Mackay – met when they were about three and he joined them aged 10.
Their familiarity, insists the 26-year-old singer, is their biggest strength.
"A lot of the songwriting comes to me on my own," he says. "I'll bring it to the guys and how they feel about the song dictates whether it goes further.
"If they are praising it I will say 'Let's do this'. If I get a few mumbles you will never hear of it again."
The album's title, says Cochrane, does not refer to West Lothian.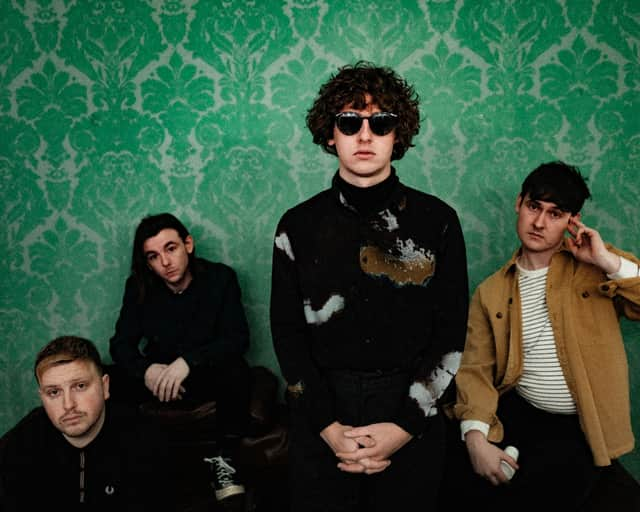 Rather, it refers to Whitburn Loopy – "the trouble-makers and the youths" from their hometown (a social group The Snuts happily place themselves in).
Whitburn, which sits halfway between Edinburgh and Glasgow, looms large over the album, informing its commentary on teenage angst and the damaging effects of drugs on their community.
"It's one of places that has been built for growing old," Cochrane says, laughing. "There is nothing that is making any effort to inspire people to try and get up and get out and make a mark and do something with your life.
"Everything is set out for you in one of these towns. Go to school, if it doesn't work get a trade. There's almost nothing else.
"There's nothing wrong with it – but it's just one of these grey towns that you see up and down the country that can sometimes trap you."
"So visit Whitburn!" he quips, as if fronting some offbeat tourist board advert.
Cochrane and co spent their teenage years playing gigs in the pubs around Whitburn – before being thrown out of them for being underage.
Even then, they obsessed about getting to the big city.
"Growing up around here, there is a huge grassroots indie scene," explains Cochrane. "Everybody was copying the popular band at the time.
"Going to Glasgow was something we were obsessed with doing – see all the big bands, all the touring bands.
"It's making that jump to the city… it made an impact on us."
The Covid-19 pandemic has hit bands hard – but Cochrane insists The Snuts are ready to take the scene by storm just as soon as gigs are green-lighted again.
Defiantly, he says: "We will be 10 times the band, especially live, when life comes back."
A message from the Editor:
Thank you for reading this article. We're more reliant on your support than ever as the shift in consumer habits brought about by coronavirus impacts our advertisers.
If you haven't already, please consider supporting our trusted, fact-checked journalism by taking out a digital subscription.