A grandmother who lives alone has spoken of the heartwarming moment she was reunited with her family after what she described as "a lifetime" apart.
Liz Fisher, from Learmonth Terrace in Edinburgh, was separated from her five grandchildren and three children after the country went into lockdown on March 23.
As restrictions were eased today, the 74-year-old has been able to meetup with her eight-year-old grandson Rory and his parents, Roddy and Sarah Fisher.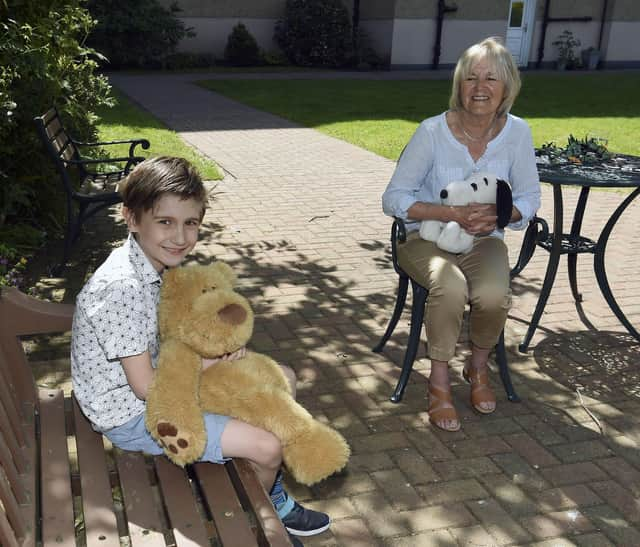 Speaking to the Evening News moments after reuniting with her family in a communal garden near her home, Mrs Fisher described the day as "magical."
"It's just been lovely" she said, emotion in her voice.
"I think the best way to describe the feeling is magical.
"I am so lucky to see Rory. I just can't believe how tall he is, I don't know what he's been eating but he's grown like mushrooms, I can't believe the difference in two months."
While the reunion was much anticipated, Mrs Fisher said it was difficult not being able to hold her grandson who was having to keep at a two metre distance at all times.
"I still can't hug him, and believe me that is the hard part because I just want to grab him and cuddle him," she added.
"As soon hugging is allowed he's going to have to wear a suit of armour because I'm going to crush him."
Rory gave his grandmother one of his favourite soft toys, Snoopy, to keep her company in lockdown.
"I live on my own and I know he was worried about that so he gave me Snoopy to hug every time I felt the urge to cuddle one of my grandchildren," Mrs Fisher said.
"He has been very generous and given a couple of his teddies to two of my friends who have also been living on their own all this time.
"One of them doesn't have any family so it's been particularly nice for her.
"I am not sure I will be allowed to keep Snoopy though once this is over."
Rory said he enjoyed seeing his grandmother after the months apart.
When asked about Snoopy he said: "I wanted her to have him because she was on her own, and I wanted her to have someone to cuddle if she felt alone."
Mrs Fisher, who has another four grandchildren - Oscar, 15, Katie, 13, Jennifer, 24, and Jamie, 18 – said she is looking forward to continuing the family reunions now that the rules are less strict.
"I think I am going to make a family occasion every weekend now," she added.
"It's been so painful being apart from them, it's honestly felt like a lifetime since we were able to sit together.
"We have spoken on Zoom but it's just not the same and I am not great with technology.
"I am just relieved I can see them in person, even if it means we can't hug just yet."
Scotland has entered its phase one of ending lockdown restrictions which means that families and friends are allowed to meet up at a safe distance outside as of today (May 29).
A maximum of eight people are allowed to gather in an outdoor space.