The art of caring: Pensioner's amazing portraits of NHS staff who cared for him
They are portraits of everyday heroes, crafted with love and affection by a patient who experienced first hand the compassion and professionalism of Scotland's NHS staff.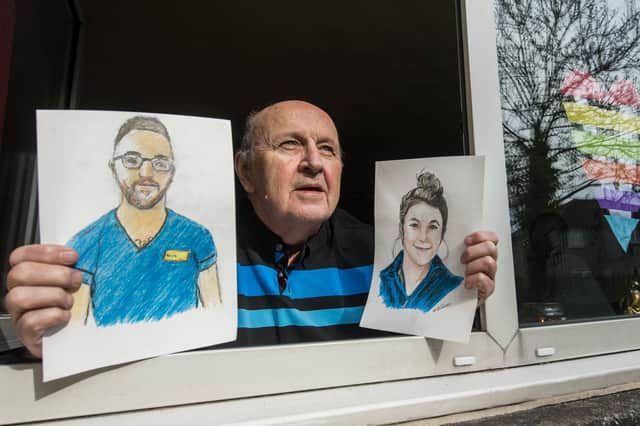 A pensioner who spent more than six months in hospitals across Glasgow has produced a series of portraits of nurses, doctors, and other staff, such as porters, cooks, and cleaners, who helped him recover and buoyed his spirits.
Donald Dickson, who suffered a broken femur last year, has produced a collection of more than 100 canvasses to date in a show of gratitude to health workers at the frontline of the Covid-19 pandemic.
Although Mr Dickson began his labour of love before the outbreak, his daughter has decided to showcase his work in the wake of the Portraits for NHS Heroes art project, a grassroots initiative which has inspired hundreds of artists to pay tribute to health staff by capturing their likeness.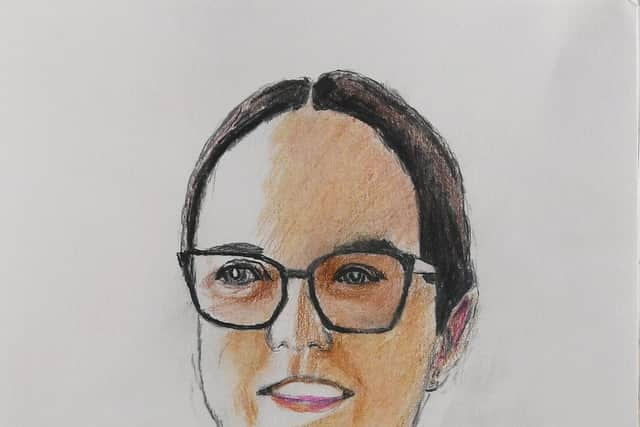 Mr Dickson, a former forklift driver from South Lanarkshire, was forced to retire due to ill health, having suffered several heart attacks and strokes. A keen drawer during his childhood and formative years, he was inspired to pick up the hobby five years ago after undergoing a hip replacement.
But it was his latest bout of ill health which inspired a late flourish in the 71-year-old's artistic career, when problems with his leg led to him being admitted to Queen Elizabeth University Hospital last October.
After specialists advised him his stay in hospital was likely to be lengthy, he called on his family to ensure he would have a supply of paper and pencils, and his trusty easel by his bedside.
"It began with one nurse, and my dad just asked her if he'd mind taking her picture and drawing her," Mr Dickson's daughter, Angela Bray, recalled. "From there, he just kept going. He was rattling them out, two or three a day, and when he ran out of nurses, there were porters and admin staff.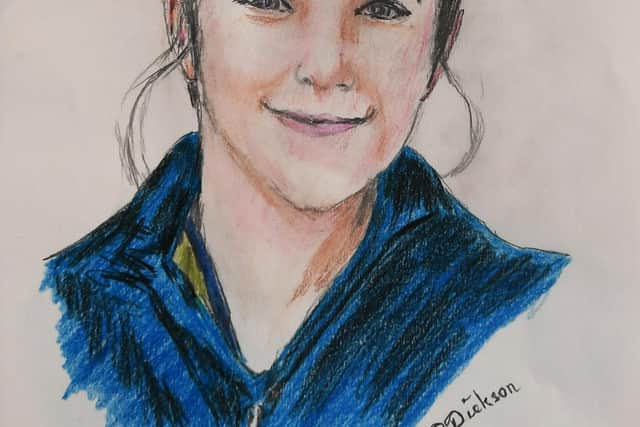 "People ended up taking photographs of their kids, grandkids, and pets in for him. He was drawing everything."
Mr Dickson's prodigious output was barely interrupted by multiple spells in intensive care, after his broken femur was compounded by an infection related to a titanium plate inserted as part of his hip replacement.
So too, it continued after he was transferred to Glasgow Royal Infirmary and Gartnavel Hospital. While many staff took home their portraits to frame as mementoes, scores of Mr Dickson's works now form part of a makeshift exhibition in one of Gartnavel's wards.
Ms Bray took to social media earlier this week to inform people of her father''s project. Both have been overwhelmed by the response, with her post retweeted hundreds of times and favourited by nearly 3,500 people to date.
"It was a way for my dad to keep himself occupied and give him focus, but also to say thank you to the incredible staff looking after him," Ms Bray, 48 said.
"I've been telling him about the response and he can't believe it, he's over the moon by the attention and the thanks from the nurses. It just shows how much people want to pay tribute to the NHS staff doing such an amazing job at the minute.
"I couldn't believe it when I heard about Portraits for NHS Heroes. My dad didn't know it at the time, but he was the one who started it."
Mr Dickson is now recuperating at home, and making excellent progress, but he remains a compulsive sketcher. He is drawing portraits of the carers who visit him, and is hoping to put his skills to use for birthday cards.
For her part Ms Bray would like to see her father's portraits receive an even wider audience.
"An exhibition at some point would be absolutely fantastic," she added. "Every day in the Gartnavel, he would go on his wheelchair and see his pictures on the wall. He was just ecstatic."