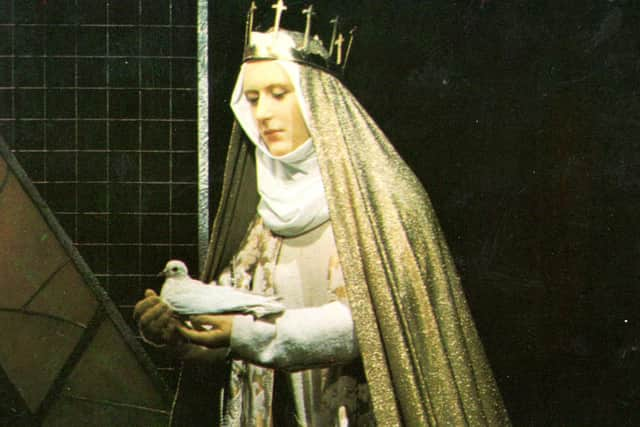 St Margaret
In 1976, the Edinburgh Wax Museum opened at the former Commercial Bank of Scotland headquarters at New Assembly Close, 142 High Street. The waxworks occupied the basement, ground and first floors, whereas the second floor housed the Castle Dracula theatre; the premises were open 11am-10pm April-October and 11am-5pm the rest of the year, and entrance was 50p for adults and 25p for children.
The museum comprised a large mainstream exhibition, with figures of Caledonian interest: Sir Walter Scott, Robert Burns, Robert Louis Stevenson, Sir William Wallace, Robert the Bruce, Saint Margaret, Boswell and Dr Johnson, and tableaux of the murder of Rizzio, the murder of Darnley and the execution of Mary Queen of Scots. Prince Charles and Lady Diana were added in 1981, joining some other royal personages on show, like the Queen, the Queen Mother, Philip Duke of Edinburgh, Princess Anne and Captain Mark Phillips.
All the wax models at the museum had been constructed with great attention to detail, and at a cost of £1,000, by Gems Wax Models of London. The museum was an interesting and curious sight, occupying a prime position in the High Street and it soon became one of the success stories of the Royal Mile, and a tourist magnet that could draw 23,000 visitors per year.
The Director of the Edinburgh Wax Museum, Charles Cameron, had ambitious plans to extend the museum with a room full of old Edinburgh worthies, like Cocoanut Tam. In 1977, he issued a series of postcards of some of his finest wax models, but they sold only modestly and are uncommonly met with today; as a result, no person knows how many cards there are in total, or which models they depict.
I have been collecting these cards for 12 years and have 11 of them, some of which are used as illustrations for this article. They clearly demonstrate the excellent quality of the waxworks in their prime and are items of considerable historical value, not only for postcard buffs, but for every person interested in Scottish history.
The large and well-stocked Chamber of Horrors of the museum featured Burke and Hare and their victim Mary Paterson, Deacon Brodie, Madeleine Smith, multiple murderer Peter Manuel who was hanged in 1958, the legendary cannibal Sawney Bean and his murderous family, and Major Weir, the Wizard of the West Bow. There was also a witch-pricker, models of torture victims and a cage full of live rats.
A most curious object in the Chamber of Horrors was the mummified remains of a human being, in the museum catalogue said to be James Hepburn the 4th Earl of Bothwell. After the downfall of Mary Queen of Scots, he had escaped to Scandinavia but fallen foul of the King of Denmark due to an earlier instance of bigamy with a Norwegian woman. Bothwell was held prisoner at Dragsholm Castle, west of Copenhagen, until his death in 1578.
He was given a decent burial in the church of Fårevejle. In 1858, there was a dispute among the Danes where Bothwell was buried, leading to his coffin at Fårevejle being opened. It was seen that the body had undergone a natural mummification and that it was well preserved. Bothwell's mummy was seen by Horace Marryat in 1859 and by his biographer Robert Gore-Browne in 1935. It is said still to be in Fårevejle today, securely inhumed in a solid-looking coffin. Since it seems highly unlikely that thieves could have taken Bothwell's mummy from Denmark to Edinburgh for exhibition, the origins of the specimen at the museum is more likely to be the anatomy department of some medical school. Nobody knows where it is today.
The children's department of the Edinburgh Wax Museum, known as Never Never Land, featured characters like Mr Toad, Peter Pan, Humpty Dumpty, Hansel and Gretel, and Little Red Riding Hood. In rather dubious taste, there were also effigies of Frankenstein's Monster, Dr Jekyll and Mr Hyde, Dracula and the Wolf-Man, ET and Mr Spock, Princess Leia and Luke Skywalker.
Although it was calculated that in 1984, the museum had close to 200,000 visitors, the exhibition closed down for good in February 1989. The wax models were bought by a property firm, who donated some to the Scotch Whisky Heritage Centre, whereas others have found a gloomy asylum at the Carmichael Estate, near Biggar. Thus the wax models of Mary Queen of Scots, John Knox in the pulpit, Sir Walter Scott and Alexander Fleming, among other minor worthies, have been saved for posterity, although in a sorry shape. Of the tableaux, only the execution of Mary remains to be seen at the Carmichael Estate. Of the Chamber of Horrors, only some misshapen torture victims and Sawney Bean and his family remain. It would be interesting to know what happened to the criminologically interesting wax models of historic criminals like Madeleine Smith, Burke and Hare and Deacon Brodie.
Since 1989, Edinburgh has lacked a waxworks museum, a sad state of affairs given the city's booming tourism. In 2008, a group of tradesmen clubbed together to make a bid to return the Edinburgh Wax Museum to its former location, but not with any success. A number of factors impede the construction of such a museum today. Firstly, a large building in a central location would be required. Secondly, the manufacture of good-quality wax models is unlikely to have become cheaper than in the 1970s, when £1,000 was paid for each. Thirdly, the establishment of a wax museum would be a long-term project, the very considerable initial investment requiring the museum to stay open for many years to make a profit. It does not look like Madame Tussaud's in London will have an Edinburgh rival in the near future.
Jan Bondeson is author of Murder Houses of Edinburgh, published by Troubador, available from www.troubador.co.uk
A message from the Editor:
Thank you for reading this article. We're more reliant on your support than ever as the shift in consumer habits brought about by coronavirus impacts our advertisers.
If you haven't already, please consider supporting our trusted, fact-checked journalism by taking out a digital subscription