Tartan Army fan tweets how he buried dad in morning and celebrated Scotland victory in evening
A diehard Tartan Army fan has told how he buried his football-daft father yesterday morning but managed to hold it together to watch Scotland squeak through to Euro 2020 with his own boy by his side last night.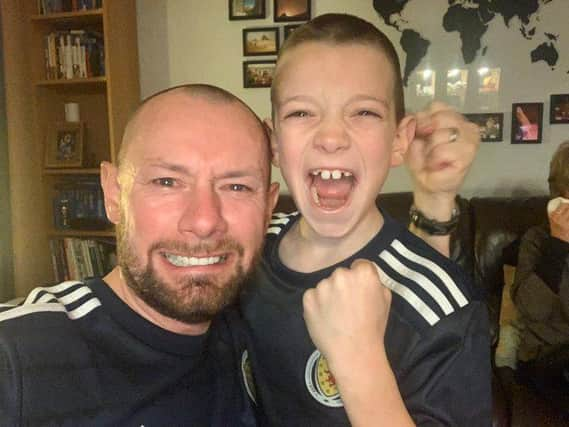 Iain Meiklejohn tweeted a photo of himself tearfully hugging his own ecstatic eight-year-old son Aleks as they celebrated Scotland's return to football's top table for the first time in a generation.
Just hours earlier the family had gathered to pay their final respects to Alek's grandfather, Iain's father, also called Ian.
The 44-year-old printer from Corstorphine, Edinburgh, tweeted: "We got through my dad's funeral this morning, the bottled up emotion certainly poured out when Marsh made that save! We did it!!"
Within hours the tweet had attracted more than 1000 likes from across the globe.
Tartan Army veteran footsoldier Iain said: "I said at the funeral I wasn't a great believer in divine intervention, but I asked, if it did exist, if my dad could maybe pull a couple of strings to see Scotland win it would be nice. He did the business.
"Yesterday was tough but after the service we sat down as a family and had a dinner together and then got the flags out and strips on and settled down to watch the game. The picture of me and Aleks that I tweeted was about 90 seconds after the final whistle and you can see the emotion coming out of me.
"Just in the corner of the photo Is my mum and you can see she is wiping a tear from her eye."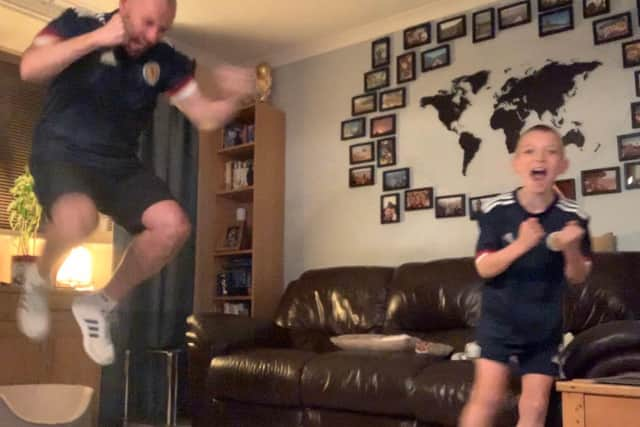 He added: "You don't really think about these things until you have to, but I guess my dad was my role model, always taking us to the football and going out on bike rides and spending time with us.
"His nickname was 'Teeko', which was passed down to me. He was a Hearts fan all his life but I actually became a Dundee United fan when I was younger, but my old man would still take me up to Tannadice a good few times a season no bother.
"Ironically Aleks is Hearts-daft, like his granddad, and his middle name is Teeko so he is the only one of the three of us with Teeko in his name properly, and I am taking him to the games at Tynecastle now. Things have come full circle."
Two years ago, father and son Iain and Aleks hit the headlines when they scooped tickets to the World Cup final after a video of Aleks being consoled by rival fans went viral.
The pair were in Russia to support Poland - homeland of Aleks' mum Iwona, 39.
Aleks was gutted when the team were eliminated but the big-hearted South Americans sitting around them in the stadium were instantly sympathetic to the young lad and looked to cheer him up.
Iwona filmed them rallying round and Iain posted the footage on Twitter.
The resulting video was then spotted by Fifa bosses who offered them a pair of dream tickets.