Survey will help plan future of council-funded bus services across Aberdeenshire
A recent survey of the Ready2Go Around Inverurie bus service will help both in the evaluation of the pilot project and the planning of future council-funded bus services across Aberdeenshire.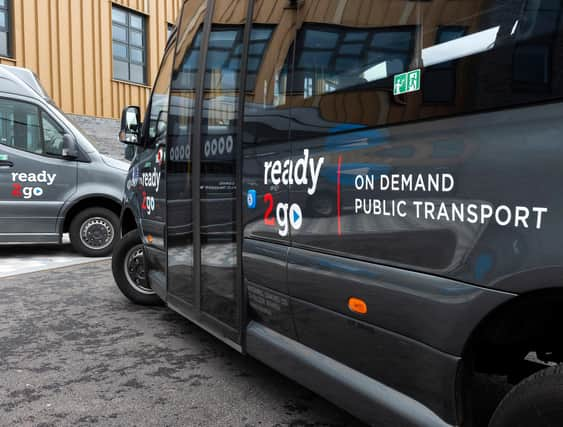 It was aimed at residents living within the operating area, with more than 400 people telling Aberdeenshire Council how they travelled and what they thought about Ready2Go services.
The aim of the survey was to assess whether people liked or disliked this type of demand responsive transport service which must be booked and, unlike other bus services, doesn't operate a fixed timetable or fixed route.
Ready2Go Around Inverurie was withdrawn last month in light of a number of issues impacting the service including high running costs, relatively low numbers of passengers travelling at the same time on each bus and passengers being unable to book a bus journey.
The Monday to Saturday service involved five minibuses operated by Watermill Coaches under contract to the council covering Inverurie and the surrounding area, including the communities of Insch, Rothienorman, Oldmeldrum, Kintore, Kemnay and Monymusk.
On average, around 1,100 passenger trips were being made each week and appeared to be performing well against policy objectives such as encouraging modal shift away from the car and supporting health and wellbeing objectives.
The survey sought information around general travel behaviour of Ready2Go customers, most common reasons for using the service and whether customers preferred a timetabled bus service or a demand responsive service like Ready2Go.
It also asked residents how satisfied they were about a variety of elements of Ready2Go, whether they supported the withdrawal of the service and what transport options customers would use after the end of Ready2Go.
Some of the key findings showed that:
87% prefer a service like Ready2Go over a timetabled bus service
79% did not support the withdrawal of the Ready2Go service
86% said that Aberdeenshire Council should introduce a similar demand responsive service in the future
The majority of customers will use timetabled buses or travel by car after the withdrawal of Ready2Go
Ewan Wallace, Head of Environment and Sustainability at Aberdeenshire Council, said: "I would like to thank all those who took the time to complete the survey on our Ready2Go Around Inverurie pilot project. Not only are we using the data and detailed comments to prepare an evaluation of the service, but it will help us review our wider passenger transport strategy and help in the planning of future council-funded bus services across Aberdeenshire.
"We shall of course be sharing the outcomes from the pilot project and this survey with colleagues at Scottish and UK Government so that we can consider the funding and development of similar approaches in the future on a collaborative basis."
West Garioch Councillor, Sam Payne, said: "The Ready2Go around Inverurie service was a fantastic asset, connecting rural communities across Garioch.
"I am glad that a timetabled service has been re-introduced between Insch and Inverurie, as there was a clear demand for this service."
"Public transport is vital in connecting communities, but the Scottish Government withdrawing the Network Support Grant Plus further hampers our bus network. We need proper funding for rural transport."
Mr Thomson said: "The Ready2Go service was very popular in the Inverurie area where it operated and the findings of this study bear this out with 87 per cent of customers preferring it to a timetabled bus service, with a similar number saying Aberdeenshire Council should introduce this type of service in the future.
"With cuts to local bus services due to kick-in next month as a result of the decision of the Conservative-Lib Dem led council, a workable demand-responsive scheme is needed more than ever, and not just in Inverurie. I hope that the council will look again at this scheme and seek to make the administration of it work."