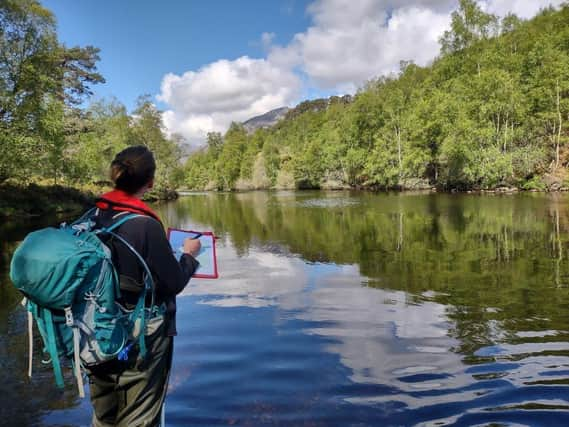 The 2023 Working with Rivers scheme will support graduates currently involved, or aspiring to work, in the landscape-scale nature restoration required to tackle climate change and biodiversity loss across Scotland.
NatureScot, Scotland's nature agency, has teamed up with Graduate Career Advantage Scotland (GCAS) and Fisheries Management Scotland (FMS) to support 11 fisheries organisations and one eco-engineering company offering paid graduate placements in river restoration, natural flood management, invasive non-native species control and riparian woodland creation.
Funded by GCAS and part of the Young Person's Guarantee, the six month scheme of on-the-job learning and development aims to break down barriers by supporting employers of all sizes to create opportunities for graduates while benefiting organisations and boosting Scotland's economy.
NatureScot and FMS (through the Scottish Fisheries Coordination Centre) will coordinate and provide training opportunities throughout the placements.
The 2022 roll out of the scheme was successful in training 20 participants in Working with Rivers placements, leading to 11 of the participants taking up employment in the sector, nine of these remaining with the employer who hosted the training.
The diverse skills involved in these placements range from practical fisheries and land management, to habitat and species surveying and communications with landowners.
This year's participating employers includes Deveron, Bogie and Isla Rivers Charitable Trust.
Graduates are being encouraged to sign up to the GCAS talent pool in order to be eligible to apply and receive further support regarding the employment opportunities the scheme offers, with full guidance to the scheme and participating employers available on the NatureScot website at www.nature.scot/doc/working-rivers-graduate-placement-scheme
Claudia Rowse, NatureScot's Deputy Director of Green Economy, said: "Natural flood management and river restoration are key nature-based solutions that are essential in helping us to mitigate and adapt to the impacts of climate change.
"There is great potential for the growth of nature-based jobs in these areas as we transition to net zero, but this will require a range of new and enhanced skills.
"These paid placements will give individuals valuable experience and help them to develop the skills required to move into employment in this sector.
"In doing so they will also increase capacity to support the kind of river restoration projects that are so essential in tackling the nature and climate crises."
Kirsten Roche, GCAS Project Director, said: "GCAS are delighted to be working with NatureScot and the 12 employers on this project.
"These roles will give the graduates in our talent pool the opportunity to gain experience in this vital part of the Scottish economy and environment."