Strikes Scotland: RMT threatens ScotRail with another 'summer of discontent' over public pay policy limits
ScotRail has been warned by its main union of another "summer of discontent" unless ministers lift the public sector pay limits on the nationalised train operator which led to months of disruption last year, The Scotsman has learned.
The Rail, Maritime and Transport union's (RMT) warning came as this year's wage negotiations at ScotRail got underway, with the union lodging a "generic pay submission". The RMT includes train conductors and station staff.
The Scottish Conservatives condemned it as "threatening nonsense". In last year's talks, following ScotRail being taken into public ownership last April, its original 2.2 per cent offer prompted train drivers to stop volunteering to work overtime, on which services depend. That led to timetables being cut by a third for two months before their union Aslef accepted a 5 per cent pay increase.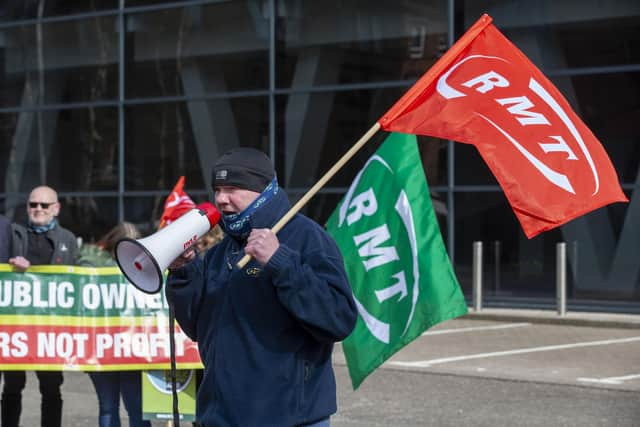 Meantime, in an ongoing dispute between the union and 14 England-based train operators including LNER, members started voting on Thursday on whether to continue taking industrial action over jobs, pay and conditions. The RMT suspended its strikes last month, but said members were frustrated at the lack of progress following a proposal by the Rail Delivery Group to end the dispute.
On the ScotRail pay negotiations, RMT Scottish organiser Mick Hogg told The Scotsman: "The four rail unions have made it clear that we do not accept the Scottish Government public sector pay policy as we see this position as a blatant attack on free collective bargaining, which will not be tolerated or accepted.
"Therefore, a summer of discontent could return to our railways unless the new First Minister [Humza Yousaf] gets his act together and recognises that all rail workers are key and essential workers and deserve better." Talks are due to continue in two weeks' time.
The Scottish Government's public sector pay strategy recommends "a central metric" of 3.5 per cent and an "award ceiling and pay envelope maximum" of 5 per cent "on business efficiencies". But there remained "discretion for individual employers to reach their own decisions about pay progression, which continues to be outwith the pay strategy limits".
Transport minister Kevin Stewart said: "The Scottish Government is committed to making a publicly-controlled ScotRail a success for passengers and staff alike. This includes maintaining positive relations with our rail unions.
"The fair and affordable pay deal that was ultimately agreed for 2022/23 has delivered benefits for staff through an excess revenue share scheme and improvements to various terms and conditions.
"I am aware of rail unions' concerns around public sector pay policy and would encourage all parties to enter these latest negotiations with the same open and collaborative approach as last year."
Scottish Conservatives transport spokesperson Graham Simpson said: "Here we go again. This kind of talk from the militant RMT is irresponsible.
"It looks as though we're going to get this kind of threatening nonsense every year. They should be working to get the railways back on track, not trying to ruin the industry."
Neil Bibby, his Scottish Labour counterpart, said: "There is a new First Minister and a new transport minister, but sadly there is nothing new about the cost-of-living crisis and the poor industrial relations on ScotRail. Because of SNP inaction, long-suffering passengers could face another summer of discontent with further delays and disruption on our rail lines.
"The SNP must get round the table with unions and negotiate in good faith to reach a deal that will avoid any further disruption to Scotland's passengers."
Meantime, the RMT said its members at the other train operators were being balloted over the next four weeks for a further six-month mandate to take strike action if that dispute is not resolved.
The union said it had had several meetings with the Rail Delivery Group since it suspended strike action last month, but it was still awaiting a document with proposals to resolve the row.
Its spokesperson said: "While negotiations continue, we remain in dispute and resolute in our determination to win a further mandate for strike action in the upcoming re-ballot."
Comments
 0 comments
Want to join the conversation? Please or to comment on this article.