Storm Babet: Red Warning issued for Aberdeenshire
The Met Office has issued a Red Warning for Rain from 6pm Thursday, October 19 to 12noon Friday, October 20 indicating a high likelihood of high impacts for South Aberdeenshire – 200-250mm of rain anticipated.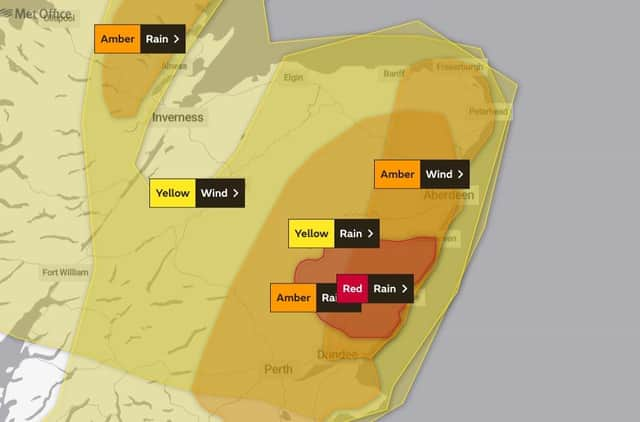 This is the highest level of warning the Met Office can issue and are only issued for the most serious and impactful weather events – this is an exceptional weather event.
In addition it has also upgraded to an Amber Wind and Rain Warning for Grampian from 10am to 6pm reflecting a medium likelihood of medium impacts.
Please note that a Yellow Wind Warning for strong wind and powerful gusts up to 70mph still remains in place for the whole region from 6am tomorrow until 6am on Saturday.
Exceptional rainfall is expected to cause severe flooding and disruption:
Danger to life from fast flowing or deep floodwater
Extensive flooding to homes and businesses
Collapsed or damaged buildings or structures
Road closures and bus and train service delays and cancellations
Dangerous driving conditions because of spray and flooded roads
Loss of power and other essential services, such as gas, water and mobile phone service
Communities completely cut off, perhaps for several days
There is real potential for heavy and prolonged rainfall – exacerbated by strong south-easterly winds – to affect large parts of Aberdeenshire including the threat of localised flooding through both coastal and river impacts – and communities must start to take precautionary action.
Households and businesses should be taking immediate steps to make arrangements for their own sandbags and flood door protection to safeguard their own property from flooding.
In preparation, there is limited supplies of sandbags at the council's Roads Depots should residents only require them in an emergency – a maximum of 20 each will be available while stocks allow. Find out where you can pick up sandbags.
If you live in a known flooding area, please ensure you sign up for alerts from SEPA, call the Floodline on 0345 9881188 or visit SEPA flood updates
The advice is to avoid all but essential travel across Aberdeenshire during Thursday and Friday.
The severity of the winds is likely to have a significant impact on woodland, particularly in areas weakened by previous storms. While Roads and Landscape teams will respond to calls about fallen trees, if it is too dangerous – particularly during hours of darkness – we will close roads until it is safe to remove them.
Please remember, fallen, overhanging and hung-up trees represent a serious danger to safety and affected areas should be avoided at all times.
To report fallen trees on the roads network call 03456 081205 (during office hours). Out of hours please call Police Scotland on 101.
River levels will rise considerably over the coming days and the A92 Lower North Water Bridge and C36 Bridge of Feugh (both road bridge and footbridges) will be closing at 9.30am on Thursday on grounds of public safety following the extreme rainfall on North Esk Catchment and Catchment of Feugh.
Other bridges may be closed to all traffic and road users as a safety precaution. Rivers will very quickly become treacherous in light of the heavy rainfall and we cannot stress enough that you should not visit any bridge to view floodwaters as these areas will be very dangerous for several days.
HM Coastguard is also advising people to steer clear of floodwaters and cliff edges throughout the storm.
We have also deployed the Stonehaven Flood Protection Scheme in advance.
In the very likely event that we have to shut roads and bridges online maps will be updated:
The home care and nursing teams across Aberdeenshire are already preparing for Storm Babet. As the storm progresses there may be impacts on roads which may make it harder for the teams to get to people so, if you can please check in on vulnerable neighbours, friends and family where it is safe to do so.
If you currently have medical equipment at home that you rely on, please make sure that you charge any spare batteries you may have in preparedness.
Council service points will be closing on Thursday and Friday and moving staff to answer customer queries by phone. If you require assistance, please call 03456 081210 - open 8am to 8pm Thursday, Friday, Saturday.
All leisure centres and libraries together with Early Years facilities in South Aberdeenshire will be closed on Thursday and Friday to ensure the safety of our users and staff.
All A2B bus services operated by the council will be withdrawn on Thursday and Friday.
Community resilience groups across Aberdeenshire are ready to spring into action and are already preparing resources/rest centres should they be required.
Stonehaven and Laurencekirk household recycling centres will be closed on Friday. There is also likely be disruption to bin collections due to the weather and driving conditions.
The council will also react to the local conditions across Aberdeenshire for bin collections and household recycling centres as they present themselves during the storm.
To get all the latest council updates including impacted waste collection services or facility closures, download the myAberdeenshire app.
There are likely to be high levels of emergency calls due to damage caused by the storm. Housing repairs and our sub-contractors will only be able to carry out work and repairs if it is safe for them to do so. This includes travelling, in what are likely to be very difficult conditions.
During the periods of red weather warnings, no repairs will be possible in those affected areas.
During the amber weather warnings the Housing Repairs teams will be responding to emergency repairs only.
Any non-essential repairs that are already booked for October 19 and 20 will be rescheduled.
Power outages – via SSEN on 105
Non-urgent medical issues – via NHS on 111
Emergency council housing repairs - 03456 08 12 03
Emergency social care 03456 08 12 06