Stagecoach hops onboard Clan's Art Trail as transport partner
Clan Cancer Support has announced Stagecoach as Transport Partner for its upcoming art trail, with less than a month to go until the forty large hare sculptures go on public display across the north of Scotland.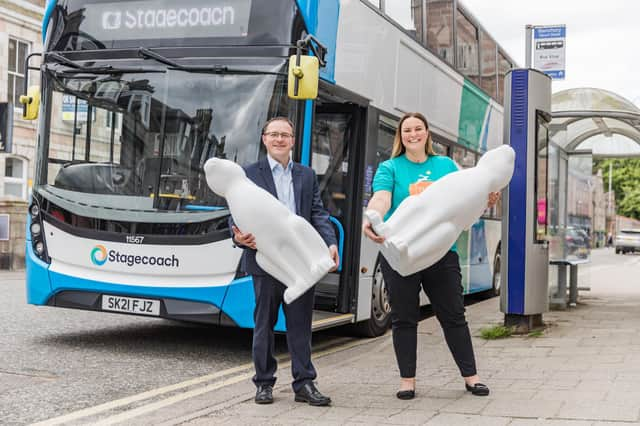 The leading north-east cancer charity, in partnership with Wild in Art, will exhibit the artwork across the north-east, Moray, Shetland and Orkney as part of The Big Hop Trail, sponsored by Hellmann Worldwide Logistics.
As part of the partnership, Stagecoach has secured two six-foot hare sculptures in the main trail and two mini hare sculptures to be featured in The Wee Hop which will showcase designs from local schools and selected artists.
The travel company will also sponsor the Farewell Weekend event which will take place on September 16 and 17 at The Music Hall, Aberdeen and will offer the public the chance to see all 40 large and 52 small sculptures one final time before they are auctioned off in honour of Clan.
Daniel Laird, commercial director of Stagecoach North Scotland, said: "We are all thrilled to be a part of The Big Hop Trail this Summer and support a spectacular local charity, who provide support for those affected by cancer. With bus services to majority of the hare sculpture locations, we hope to encourage all members of the community to get involved in the project and explore our beautiful corner of Scotland. We are honoured to hop on board as travel partner and support the incredible work Clan does."
Fiona Fernie, CEO of Clan Cancer Support, added: "We're delighted to have Stagecoach on board as our transport partner for The Big Hop Trail. The project covers such a huge geographical area with Stagecoach servicing a significant patch, providing reliable and comfortable transportation for all the family.
"The Big Hop Trail is a much-anticipated event which will allow the public to freely access culture while celebrating and exploring our beautiful region. We're extremely grateful to Stagecoach for joining us on this journey and for helping Clan to support people affected by cancer."
A map detailing the locations of all sculptures and information on Stagecoach services available for those located near a bus route will be released at the end of June.
The designs of all sculptures will be revealed via a dedicated app which is due to go live ahead of the trail launching on Sunday, July 2.
Participants will be able to use the app to vote for their favourite hare, track their steps using the pedometer, share pictures of their experience and collect rewards from participating sponsors as they discover each individually designed piece of art.
Fiona added: "With just one month to go until our hares are hopping into their trail locations, we'd encourage trail goers to make sure they keep an eye on The Big Hop's social media channels for updates about the map and app to ensure they can plan and prepare for their trail experience."
The project follows Clan's Light the North Trail, which raised £325,000 for the charity in 2021.
For more information about the trail and to find out about sponsorship opportunities email: [email protected]​​​​​​​